GOLDSEA | ASIAMS.NET | ASIAN AMERICAN PERSONALITIES
PIONEERS OF THE DIGITAL REVOLUTION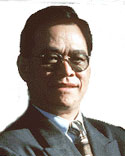 3. David Lam
Developer of Plasma Etching Chipmaking Equipment; Founder of Lam Research

n the late 1970s when computer chips were still being made by attaching thousands of tiny transistors onto small squares of silicon wafers, David Lam saw the potential to use experimental plasma-etching techniques to cut thousands of micron-sized switches directly onto wafers. With a bit of seed money from his mother, he launched Lam Research in 1979. It took two more years to raise venture capital, build a prototype etching machine and make the company's first sale.

Before long Lam Research was selling equipment to semiconductor companies like National Semi, Toshiba, Hitachi and AMD. It also sold to companies offering wafer fabrication services to innovative startups with bright ideas but without the capital to buy costly equipment. Lam Research stayed at the forefront of the plasma-etching technology, making it possible for chipmakers to pack more data onto smaller squares of wafer, spurring the development of small, powerful, economical personal computers.

Today Lam Research remains a leader in the semiconductor processing equipment industry, with sales of around a billion dollars a year. In addition to plasma etch machines, Lam makes chemical mechanical planarization (CMP) systems to polish wafers and post-CMP cleaning equipment to keep microscopic dust from ruining processed wafers.

David Lam was born in South Vietnam near the end of World War II. His parents moved the family to Hong Kong as he began junior high. He immigrated to the U.S. to attend a small college but ended up getting a masters and PhD from MIT.
---

4. Albert Y. C. Yu
Microprocessor Architect; Intel Sr Vice President

lbert Y. C. Yu joined Intel 30 years ago and quickly established himself as the mastermind of the company's microprocessor architecture. By the time he retired in September 2002 from his post as Intel's chief technology boss for all microprocessor R&D, he had become the tech czar for the company's rise to global chipmaking dominance. Yu strategized the creation of six generations of microprocessors, from the 80386 all the way to the latest Pentium 4 which has become the world's highest volume chip. He also led the teams that developed the ItaniumT processor family for the business server market.

Yu's status as a Silicon Valley legend keeps his shiny dome ("I'm bald and unique," he has boasted as his primary distinctions.) very much in the spotlight. He sits on prestigious boards at Berkeley, Stanford and Harvard as well as the Tech Museum in San Jose. In addition to nearly three dozen technical works, he authored a Chinese-language best-seller entitled Insider's View of Intel and Creating the Digital Future (The Free Press, 1998).

Albert Y. C. Yu was born in 1941 in Shanghai, China. He came to the U.S. to study electrical engineering at Cal Tech where he got his B.S. His first paying job was soldering cables for high-energy physics experiments during his sophomore year. He went on to receive a masters and PhD from Stanford before working at Fairchild Semiconductor, the company founded in part by Gordon Moore and Robert Noyce who, in July of 1968, would leave to found Intel. Yu joined the company in 1972.

Yu enjoys tennis, swimming, hiking and fooling around with his PC. His only regret is not having forced his two kids to learn to speak at least one Chinese dialect.
CONTINUED BELOW
---
---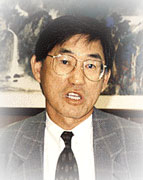 5. Bill Mow
Developer of Testing Equipment for Early Semiconductors

ill Mow became the first Asian American to start a company specifically to serve the anticipated boom in large-scale integrated circuits -- primitive computer chips -- when he launched Macrodata in 1969. As an electrical engineer in the missile guidance division of Litton Industries, Mow had seen the need for equipment to measure the speed of complex circuitry down to a billionth of a second. At his new company Mow joined five to ten thousand transistors to build equipment to test logic chips, random access memory (RAM) and microprocessors. Credited with midwifing the birth of computer chip technology, Mow's machine is on display at the German museum of Technology in Munich. By the early 1970s Macrodata was selling equipment to 48 of the top 50 U.S. computer companies. Two of its biggest customers were IBM and NEC. Mow recalls a young jeans-clad Steve Jobs begging him to be allowed to buy equipment on credit.

Mow was pegged as a brilliant engineer but a poor manager. After buying up a controlling interest in Macrodata in 1976, Cutler-Hammer exiled Mow and his secretary to a remote office and replaced him with a professional manager. Mow sought revenge through litigation and by starting Bugle Boy, a young men's sportswear company that lucked into the parachute-pants craze and became an industry sensation. By the late 1980s Mow achieved with Bugle Boy something that eluded him with Macrodata: becoming one of America's 400 wealthiest people. Bugle Boy went into decline a decade later but Mow's story remains one of the most inspiring of the Asian American rags-to-riches story.

Bill Mow was born in Hangchow, China in 1937. His father was a Nationalist general and diplomat who fell out of favor with Chiang's government several years after the family moved to the U.S. After attending the Riverside School, Mow graduated from Rensselaer Polytechnic Institute in 1959 and married the same year. He got his PdD from Purdue University in 1967 and worked at Litton Industries before leaving in 1969 to start Macrodata.
---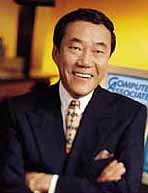 6. Charles Wang
First Asian American Software Tycoon; Founder of Computer Associates

harles Wang is the world's first Asian software tycoon. As a young man with a degree from a humble community college in Queens and a naive determination to enter a new field called "programming", in 1976 Wang and a partner secured the exclusive Noth American right to sell licenses to a Swiss disk operating system. The software's novel sorting routine gave it a significant speed advantage. It proved crtical in an age when primitive vaccuum-tube mainframes strained to process every byte of data. Wang's Computer Associates grew at breakneck pace. By the early 1980s the only serious rival on the independent software landscape was Bill Gates and a little company called Microsoft.

The eventual success of the Windows operating system let Microsoft pull ahead by the early 1990s, but Charles Wang didn't take the challenge lying down. He accelerated an already voracious acquisition strategy. By 1998 Computer Associates reached $25-billion in market capitalization. Wang wasn't shy about flaunting his wealth. He bought the New York Islanders hockey team and became a leading light on the international charity circuit. Wang's flambuoyant ways raised eyebrows when CA shares tumbled soon after he exercised stock options that let him pocket a cool $700 million in May 1998. Under shareholder pressure, in 2002 Wang turned over full control of the company to protegé Sanjay Kumar.

Charles Wang was born in 1944 in Shanghai where his father was a justice of the Supreme Court. The family moved to New York when Charles was 8. His first part-time job was sorting mail at a local post office. Graduating from Queens College in 1967, he picked a career out of the classifieds. "There were two and a half pages of programmer ads," he recalls. "So I told my mother, 'I think I'm going to be a programmer.' She says, 'What's that?' I said, 'I don't know, Mom, but boy, do they need 'em!'"
PAGE 3
"After buying up a controlling interest in Macrodata in 1976, Cutler-Hammer exiled Mow and his secretary to a remote office and replaced him with a professional manager."
CONTACT US | ADVERTISING INFO

© 1996-2013 Asian Media Group Inc
No part of the contents of this site may be reproduced without prior written permission.