Mitsuwa Marketplace:


New York's Favorite Asian Mall


Forum on Great Asian Malls & Supermarkets
GOLDSEA | ASIAMS.NET | ASIAN AMERICAN PARENTING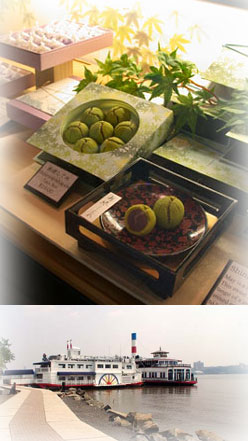 The Mitsuwa Marketplace's unique combination of attractions include the delicate offerings of the Minamoto Kitchoan Pastry shop and the proximity of the historic Binghamton Ferry Restaurant.
GREAT ASIAN MALLS & SUPERMARKETS

Mitsuwa Marketplace
595 River Road,
Edgewater, NJ 07020

ew York's favorite Asian mall is actually across the Hudson in Edgewater, New Jersey. There are two good reasons for this, aside from the fact that there's no room for a 100,000 square-foot Asian mall in Manhattan or Queens. First, a Mitsuwa Shuttle Bus leaves 15 minutes past each hour from Platform #51 in the Port Authority Bus Terminal (on Eighth Avenue between 40th and 42nd streets) for the half-hour ride. Second, New York's charms are often best enjoyed from across a body of water. The dead-on, wavelet-level Manhattan view afforded by the Mitsuwa Marketplace (formerly Yaohan Plaza) is one of its peculiar attractions.

The mall was built to cater to the families of expat Japanese executives living in the Fort Lee area. Today, its 55,000-square-foot supermarket remains predominantly Japanese in its offerings, but its clientele is more likely to be the Coreans (Koreans) and Chinese who make up most of the area's 25% Asian population. A big draw is the Asian fast-food counters located inside the Mitsuwa Supermarket, the bakery and 35,000-square-feet of retail establishments. The Japanese restaurant Chinsan-zo which originally occupied the building at the end of the adjacent pier is now used by the historic Binghamton Ferry Restaurant, another attraction of Mitsuwa's unique location.