[CONTINUED BELOW]
---
---
What makes Super H Mart a destination for Asian American families from NoVa and surrounding areas is its sheer immensity (54,000 sq-ft), its sparkling designer look and its unparalleled selection. It stocks so many Chinese, Japanese and mainstream products — in addition to the Corean (Korean) — that its core customer base extends beyond the 66,000 Coreans in Northern Virginia to include all Asians as well as other locals. It has caused so much stir since opening in November 2002 that Asians make up only about half the clientele.

The word of mouth is fueled by the freshness of the produce, meats and seafoods, and its luxurious, other-worldly ambience. Super H Mart's complete selection of regular supermarket stuff also affords Asians American families the convenience of getting their weekly shopping done under one roof.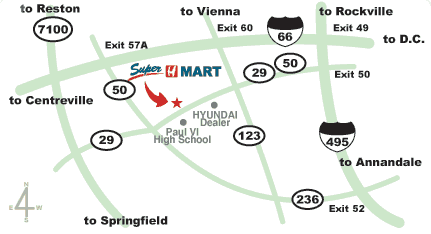 Super H Mart works hard to promote its status as a local cultural attraction with events like the Korean Kimchi Festival and a fair featuring products of South Choong Chung Province. Its Asian cuisines, bakeries and a café encourage visitors to lounge and enjoy the atmospherics of a truly nouvelle Asian supermarket.
"What keeps the word of mouth going is the freshness of the produce, meats and seafoods, not to mention its luxurious, other-worldly ambience."
CONTACT US | ADVERTISING INFO

© 1996-2013 Asian Media Group Inc
No part of the contents of this site may be reproduced without prior written permission.