ASIAN AMERICAN
SPORTS
CONTACT US | ADVERTISING INFO

© 1996-2013 Asian Media Group Inc
No part of the contents of this site may be reproduced without prior written permission.
---
THE 20 MOST INSPIRING ASIAN SPORTS STARS IN AMERICA
PAGE 2 OF 3
7. Champion Figure Skater Michelle Kwan
Gold eluded Michele Kwan at two Olympics, but five national championships and four world titles are enough to make her the figure-skating world's youthful but undisputed grand dame. Kwan combines grace with power and poise to present a public face that is gracious yet assertive. A longstanding habit of seating her dad beside her at major events gives a rare boost to the image of Asian fatherhood
---
8. Champion Golfer Tiger Woods

The only man ever to hold all four major PGA titles in the same year (2001), Woods is the symbol of steadiness and grace under intense pressure. By publicly embracing his mother's Thai heritage, he has become an inspiration to Blasians as well as all Asian Americans.
---
9. LPGA Champion Golfer Se Ri Pak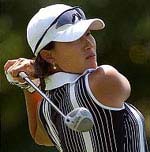 Se Ri Pak's 290-yard drives, uncanny pitching and heads-down determination in clutch situations earned her the distinctions of being the only rookie ever to win a major in her first LPGA tournament and the youngest woman to win the U.S. Open. She has staked out a lasting place alonside the greatest women golfers of all time and has inspired the rise of a generation of Asian women to the LPGA's upper ranks.
---
10. UH Quarterback Timmy Chang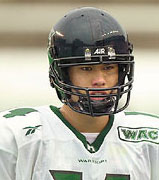 Can an Asian male star in the quintessential American sport? Timmy Chang's answer to that question makes him a hero even before his college career enters its prime. In his freshman season at UH (2000) Chang started 9 games and exceeded expectations by breaking eight school passing records. In 2002 Chang gave a tantalizing glimpse of his true potential as a Division I-A quarterback by throwing for 4,474 yards and 25 touchdowns for the second best total in the nation. Under his leadership the Rainbows have a shot at becoming a national championship contender.

[CONTINUED BELOW]
---
---
11. Olympic Champion Diver Sammy Lee


In 1948, two decades before anyone knew what an Asian American was, a diminutive Corean American army doctor brought home a gold medal in platform diving from London. Four years later, he came home from Helsinki with another. He coached the U.S. diving team for the 1960 and 64 Olympics.
---
12. Olympic Champion Volleyballer Eric Sato
Eric Sato's lightning digs and devastating serves helped a star-studded U.S. team beat the mighty Soviets for gold in the 1988 Seoul Olympics and win a bronze in 1992 and a World Championship in 1996. In a game dominated by seven-footers, Sato is the protoype of the small, quick defensive player who pleases crowds by keeping alive rallies. His aggressive jump serves helped him lead the league in aces and sustain his career until the age of 37, one of the longest in pro volleyball history.
---
13. Olympic Champion Figure Skater Kristi Yamaguchi


Kristi Yamaguchi overcame a clubfoot condition to become an icon of supple grace and the first Asian American woman to win Olympic gold. That 1992 triumph kicked off one of figure skating's longest-lived and most celebrated amateur and professional careers, sending a generation of Asian girls to the ice. PAGE 3
---