ASIAN AMERICAN
SPORTS
CONTACT US | ADVERTISING INFO

© 1996-2013 Asian Media Group Inc
No part of the contents of this site may be reproduced without prior written permission.
---
THE 20 MOST INSPIRING ASIAN SPORTS STARS IN AMERICA
PAGE 3 OF 3

14. NFL Quarterback Roman Gabriel


This son of a Filipino immigrant was the first Asian American to start as an NFL quarterback. He enjoyed several glorious years with the Rams in the 60s, then a year with the Eagles in the 1973. Unfortunately, Gabriel only serves as a retrospective role model -- few Asian Americans even suspected his ethnicity until two decades after his retirement.
---
15. U.S. Olympic Short-Track Skater Apolo Ohno

Apolo Ohno's status as the epitome of cool owes much to his image as an untameable badboy. There's the unruly hair, the soulpatch and rumors of having tanked a race to help a buddy make the U.S. Olympic team. And of course there's the bright shining truth of the short-track gold (1,500 meters) and silver (1,000 meters) at the 2002 Salt Lake City Olympics. The distinction of becoming the most hated figure to an entire nation after being awarded the gold through disqualification of Corean star Kim Dong-sung probably didn't hurt either. And Ohno gets regular trims from his hairdresser dad who raised him alone.
---
16. Yankees Leftfielder Hideki Matsui


Even before graduating high school Hideki Matsui had earned the nickname of Godzilla by terrorizing pitchers into walking him. In his ten seasons with the Yomiuri Giants he earned three MVP awards and three homerun and RBI championships. He became the 17th Japanese player to move to the majors in December 2002 when he signed a reported 4-year, $28-million contract with the Yankees, but Matsui is a pioneer in showing that Asian pwerhitting translates well across the Pacific. In his first 125 Yankees games he racked up 15 homers and 90 RBIs while compiling a .294 batting average. His compact hitting style seems suited to ensure even better results as he becomes acquainted with ML fastballers.
---
17. Boston Red Sox Starting Pitcher Byung-Hyun Kim


Baseball has produced few pitching prodigies on the order of Byung-Hyun Kim. He wasn't yet 21 when called up to pitch relief for the Diamondbacks. His whipping 93-mph submarine throws notched 111 kills in his first 70.2 innings, inspiring talk of a closer spot on the All-Star team. In 2001 his fastballs helped the team make the World Series -- and almost lost it by giving up crucial home runs in games 4 and 5. Kim survived the trauma become a winning starter with the playoff-caliber Red Sox.

[CONTINUED BELOW]
---
---
18. Colorado Rapids Midfielder Mark Chung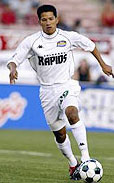 With his deft passes and breakout speed, seven-year veteran Mark Chung has become one of MLS soccer's most reliable and penetrating midfielders -- and he keeps getting better. In his first year with the Colorado Rapids, he led the team in scoring and helped it make the playoffs. By early 2003 he had earned a fifth Player of the Week honor by scoring two goals in a Fourth of July game against the Kansas City Wizards. The 5-7, 155-lb Chung posseses a formidable weapon in his powerful and accurate left foot.
---
19. Minnesota Wild Right Wing Richard Park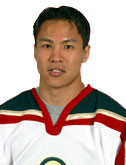 Despite having grown up in sunny Southern California, Richard Park showed enough offensive threat to win a spot on the U.S. World Junior Championship team in 1994 and 95. He was a second-round draft pick in 1994 at the age of 18, making him one of the youngest players to play in the NHL. His early goal in game 5 of the 2003 playoffs against Vancouver helped rally the Wild to a come-from-behind win in the 7-game series.
---
20. Seattle Mariners Closer Kazuhiro Sasaki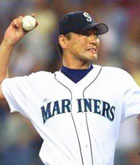 Kazuhiro Sasaki is a true strikeout artist who uses fastballs to set up the kill with his unique tumbling splitter. He won the American League Rookie of the Year award in his debut season (2000) and went on to rack up 100 saves in his first 160 Mariners relief appearances, faster than anyone in MLB history. Injuries that kept him out for much of the 2003 season but by late August he appeared to have made a full recovery.
---