GOLDSEA | ASIAMS.NET | ASIAN AMERICAN PERSONALITIES
AMERICA'S MOST DARING ASIANS UNDER 40
Cung Le:
The Fighting Machine

f this were a biopic based on Cung Le's life, we might see a tough kid, a bully, his face twisted into a hateful sneer. "Hey, gook!" He moves in, backed up by friends shouting, "Ya chink! Damn nip!"

Facing them is a skinny Asian kid, Southeast Asian, Vietnamese. His face shows confusion, a flash of smoldering anger, but ultimately, helplessness. Not fear though. School bullies are nothing compared to fleeing your homeland at the age of five in a chopper drawing intense fire.

But the pain of shame flashes across the Asian kid's face as he is punched, kicked and shoved to the ground. The bullies kick his backpack, stomp on it. They pull out his books and throw them onto the street. The Asian kid yells with helpless rage.

Flash forward a couple of decades.

The opponent facing Cung Le is a tall, well-muscled fighter. He is moving nimbly in a catlike stance, setting up to deliver a blow. The next instant his face contorts in shock, pain as he feels a heel slamming into his solar plexus. The rest of Cung Le is a blur, having spun around 270 degrees so only the back of his head can be seen. The blind precision of Le's back spin kick staggers the opponent back a step. The next moment his knees are buckled by the weight of an ax kick slamming down on his shoulder from overhead. Cut to opponent being flopped back onto the floor by Le's legs shooting out to scissor his lower torso.

Flash repeatedly through similar scenes. The only sounds are those of kicks and punches and bodies hitting the canvas, hard. Then the erupting screams of thrilled fans. Le's impassive face wears a look of steely determination, confidence. Intercut shots of a sign reading "Unlimited Strength and Honor".

A bolder opponent closes on Le with a do-or-die look. Le ducks, slams a shoulder against the opponent's belly, then lifts him up and over behind his back like a big sack of potatoes. Le's trademark body throws come quickly and repeatedly for opponents who get close. One opponent steps just out of reach only to have Le shoot up into an airborne spin to land a heel against the side of the opponent's head. He follows up by plunging a long straight jab to the face. The opponent hits the canvas. His mouth opens but the only sound that escapes is a gasp for breath.

These scenes are repeated again and again as Cung Le cuts through 16 opponents in a row.

As undefeated world champion, the Vietnamese American kickboxing master had nothing left to prove in the sport of san shou, a form of Chinese kung fu that rewards aggressive strikes and takedowns but does not allow grappling. Having won his last san shou-rules match in a Strikeforce light heavyweight bout against Frank Shamrock protegé Brian Ebersole June 4, 2005 at the HP Pavilion by unanimous decision, Le was widely regarded the country's most dominant kickboxing champion. At the age of 32, there would have been no shame in retiring from competition and devoting his energy to building up his fight gear business and captaining the U.S. san shou team in international competition.

But the trademarked slogan plastered all over Le's studio and website isn't just "Strength and Honor" but "Unlimited Strength and Honor", abbreviated "UsH" as the logo on Cung Le's fight gear. Le felt he had plenty of strength and more honor to win, and by then hard-core fighters saw the ultimate proving ground as the international blood sport known as cagefighting or mixed martial arts (MMA). Many muay thai, boxing, wrestling, taekwondo, jiu jitsu, judo and karate champions had been drawn into MMA competition. Some are lured by the big money of pay-per-view cable and packed arenas. Others feel compelled to test their fighting spirit and skills in bone-crushing, ligament tearing, face-bloodying no-holds-barred combat against the world's toughest, wiliest fighters.

Unlike other types of bouts, MMA fights aren't limited to stand-up techniques like punches, kicks, knees and takedowns. As in a real-world fight, any part of the body can be used to batter, twist or dominate opponents. The only no-nos are gouging eyeballs, striking genitals or twisting toes and fingers. The loser faces a stark choice: be destroyed or accept the humiliation of submission.

Cung Le's first MMA bout didn't come until age 33, nine months after his last san shou match. He prepared by learning grappling techniques from Brazilian Jiu-Jitsu master Garth Taylor as well as working out with Javier Mendez and Bob Cook of the American Kickboxing Academy, his regular training facility.

"It's very exciting, " Le said before his March 10, 2006 MMA debut under a Strikeforce fight card headlined by MMA superstars Frank Shamrock and Cesar Gracie. "I enjoy being a student again. With the Jiu-Jitsu, no matter what position you're in, there's something you have to worry about." It was a new fight format for Le but his opponent was Mike Altman, a san shou fighter Le had knocked out in 1999 with a roundhouse kick to the head, followed by a left to the body.

In front of over 18,000 screaming fans at the San Jose HP Pavilion Cung Le made an impressive MMA debut, knocking out Altman in 3:51 of the first round. His second MMA bout was equally impressive. On June 9 he scored a TKO in 4:19 of the first round against Brian Warren. Le impressed the crowd by starting with effective high kicks and spinning back kicks, then ended the fight with a series of punches that dropped Warren.

Since then none of Le's opponents has fared better, and some considerably worse. It took Le only 43 seconds to dispose of Jason Van Flue in December of 2006. The following November Sam Morgan lasted 1:58 before suffering a TKO on a liver kick. On March 29, 2008 Frank Shamrock was forced to retire with a broken arm in the third round.

Le has proven himself to be one of the world's most formidable fighters of his weight class, and maybe even a class higher. His physique remains as rock solid as his fighting spirit and determination, letting Cung Le look forward to unlimited career options. In addition to leading the U.S. san shou team in international competition, Le is working on his movie ambitions with multiple projects. One action film stars Le and co-stars David Carradine, Eric Roberts and Gary Bussey.
CUNG LE | JOHN LIU | ROY LEE | JOHN JUANDA | MICHELLE WIE | DARING ASIAN AMERICANS UNDER 40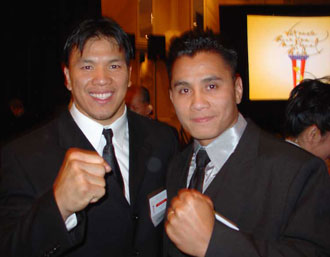 Cung Le (right) poses with fellow Vietnamese American and former Dallas Cowboys middle linebacker Dat Nguyen.
"I enjoy being a student again. With the Jiu-Jitsu, no matter what position you're in, there's something you have to worry about."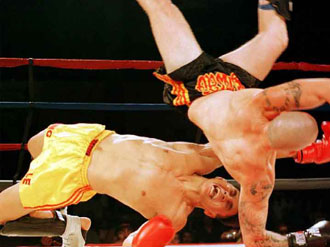 Cung Le tosses an opponent backwards over his head with his trademark body throw.
---
CONTACT US | ADVERTISING INFO

© 1996-2013 Asian Media Group Inc
No part of the contents of this site may be reproduced without prior written permission.