GOLDSEA | ASIAMS.NET | ASIAN AMERICAN PERSONALITIES
AMERICA'S MOST DARING ASIANS UNDER 40
Roy Lee:
Hollywood Dealmaker
ost 27-year-old big-firm associates mired in endless gruntwork daydream of farflung glory. Roy Lee went a step farther. After eight months of angst at a prestigious international law firm, Lee threw his stuff into his car and drove out to find a better life in Hollywood. That was in 1996. Within six years Roy Lee found notoriety and a seven figure income as the King of Remakes, the guy Asia's top filmmakers petition when they want to sell remake rights to Hollywood studios for top dollar.

To understand how Lee pulled off that feat, we have to understand the walk-through-walls way Roy Lee has always approached every challenge.

In the tenth grade he was shot in the ankle with a BB gun. Lee went to the shooter's house and loosened the lug nuts on one of the front wheels of his car. The shooter's axle broke in a spectacular non-injury accident, and police officers showed up at Lee's house. They questioned him but couldn't get enough to file charges.

Lee's first brush with ambition came while he was an undergraduate at George Washington University. He landed an internship at the D.C. office of Fried, Frank, a top international law firm. Inspired to go to law school, Lee not only began reading a book a day to improve his verbal skills, but resolved to cut off his distracting buddies. He threw them a Christmas bash. As they were staggering out the door, Lee told them, "In the new year I don't want to see any of you again."

Once he was deep into legal studies at the American University's Washington School of Law, Lee discovered a creative impulse — after a fashion. With the aim of producing a screenplay, Lee transcribed the Pulp Fiction script word for word, then changed each line until it was unrecognizable. He similarly reworked a Seinfeld script and sent it to a talent agency, but failed to get a response.

In 1996 when Lee bolted his nascent legal career for Hollywood, he naturally sought out a niche involving screenplays. He landed at the very bottom of the Hollywood food chain. As a tracker for a production company called Alphaville Lee's job was to network with other trackers around town to stay current on the buzz about the spec scripts being circulated.

It was a nothing job, but Lee brought to it his knack for tilting the playing field in his favor. He set up an online board called Tracker and asked his friends to log in and rate the scripts he uploaded. Once he had established a credible level of activity on his site, he talked other trackers into letting him set up similar boards for them. Within six months 25 other trackers were using the site to post scripts online. As the only "member" with access to all the scripts, Lee could get a jump on the buzz on spec scripts being shopped around town.

Ultimately Lee's Tracker site was a parasitic entity that sucked the life out of the potential top spec script writers once enjoyed to profit from bidding wars. However, before its demise Tracker did provide Lee one coup that would prove key to his Hollywood climb — tipped Lee off to the buzz building around the American Beauty script. He passed on the tip to a friend named Mark Sourian who was an assistant at Dreamworks. That studio bought the script and turned it into one of the decade's most profitable blockbusters.

In 1999 Lee moved on to another low-end job — finding projects that could be turned into short features downloadable on the internet. The only upside was that he was working for a talent management company owned by friends Chris Bender and J. C. Spink, and they didn't lay Lee off when the internet plunged into the abyss in late 2000. Instead they let him sniff around for feature projects. That could have been another walk in the desert but for a friend who had been laid off by Fine Line. As a development executive Mike Macari had been laid off while working on a remake of a Japanese horror flick called Ringu. Macari told Lee about the project in hopes of getting Benderspink's help placing it. Lee called his old friend Sourian who, by now, had been promoted to executive ranks at Dreamworks. After watching the tape Sourian lost no time convincing the studio to pay a million dollars for remake rights. When it was ultimately released as The Ring in 2002, it grossed $129 million in the U.S. alone.

Meanwhile Lee's effort at claiming credit for finding the project mired him in a 14-month feud with Macari. Ultimately truth, not to mention Lee's former friends at Benderspink, sided with Macari. Lee and Macari ended up sharing the credit as "executive producer" Lee may have lost a few friends but he discovered the talented Hideo Nakata, the Japanese director who directed Ringu. Lee quickly sold remake rights to Nakata's acclaimed Dark Water for $550,000 and the rights to Nakata's thriller Chaos for a similar amount.

By then it was the fall of 2001, and Lee left Benderspink to start Vertigo Entertainment with partner Doug Davison. There he could focus on what he did best — seek out films that had proven their audience appeal in low-budget incarnations in various Asian markets. As shown by his first attempts at writing screenplays, Lee had neither the creative talent to write screenplays nor the patience to stitch together the myriad components that go into a movie production. What he did have was a knack for spotting opportunities and jumping on them.

Having been born and raised in the United States, Lee didn't speak Corean (Korean) like his immigrant parents. But his success in selling Nakata's films to Hollywood gave him clout with Corean filmmakers who wanted both the money and the validation that a Hollywood remake could bestow. With no contacts, Lee flew there and secured remake rights to top box office hits like My Wife Is a Gangster, Marrying the Mafia and My Sassy Girl. Corean films were enjoying a vogue in Hollywood and studios snapped up the rights.

That first handful of successes turned Vertigo into a magnet for videotapes of Asian films, subtitled in English for Lee's convenience. Today the firm employs several assistants to help Lee sift through them. Lee watches only the one that impress his screeners. The only exceptions are "the ones where I know the filmmakers or I really like the story line," he says. Even then, Lee has to sit through 20 films on average to find a gem worth taking on.

Success has let Vertigo bump up its fees to a hefty million dollars against 2.5% of gross for remake rights. It now has the resources to develop its own projects from original script ideas or adaptations of books. For most projects Lee attaches actors to scripts before selling them to studios for production.

"We offered Jennifer Connelly the lead role in The Ring," Lee recalls. "She turned it down." He has reason to sound smug. When Lee was casting Dark Water, Jennifer Connelly jumped at the chance to star.

Among other recent projects is the highly acclaimed Hong Kong cop drama Infernal Affairs. Vertigo got $1.75 million up front for the remake rights, the most ever paid. The Hollywood version is directed by Martin Scorsese and stars Jack Nicholson, Leonardo DiCaprio and Matt Damon.
CUNG LE | JOHN LIU | ROY LEE | JOHN JUANDA | MICHELLE WIE | DARING ASIAN AMERICANS UNDER 40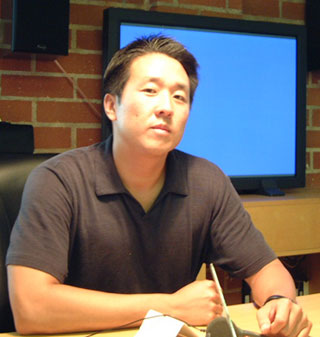 Today Roy Lee employs five just screen the piles of videos sent to his Vertigo Entertainment in hopes of a remake deal.
"It was a nothing job, but Lee brought to it his knack for tilting the playing field in his favor."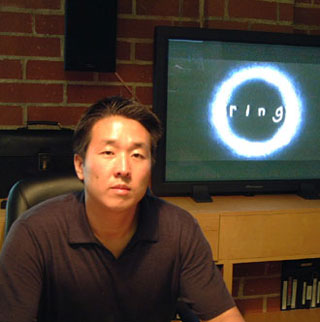 The Ring grossed $129 million in U.S. box office alone and put Roy Lee on Hollywood's map as the go-to guy for remake rights to Asian hit movies.
---
CONTACT US | ADVERTISING INFO

© 1996-2013 Asian Media Group Inc
No part of the contents of this site may be reproduced without prior written permission.