GOLDSEA | ASIAMS.NET | ASIAN AMERICAN PERSONALITIES
AMERICA'S MOST DARING ASIANS UNDER 40
John Liu:
Press Conference Champion

lant-eyed whore. That's what the DJ of a major hip-hop station called the half-Asian wife of a rival DJ last May. On the air. And he called her 4-year-old daughter a "little half a lo-mein eater".

In response New York City Councilman John Liu called a press conference. He directed public outrage at DJ Star aka Troi Torain who was promptly fired by WWPR-FM (Power 105.1). Torain's response was true to character. He publicly threatened to sexually abuse and urinate on the 4-year-old.

Liu called another press conference. Torain "now must be put behind bars for spewing these threats against a little 4-year-old girl," Liu declared. The next day the New York City Police called Torain and ordered him to turn in his 9mm handgun and target-practice permit. When Torain showed up at the police station to comply, he was arrested by detectives from New York's Hate Crimes Unit and charged with endangering the welfare of a child.

Few moments were sweeter in Liu's four and a half years as a City Councilman.

The life of a crusading local politician isn't without its pitfalls. In late July when charges against Torain were conditionally dropped to spare the 4-year-old victim further attention, the emboldened ex-DJ filed a libel suit in federal court. The complaint seeks an eye-popping $55 million in damages against Liu for having called Torain a pedophile and demanding Torain's firing. Claiming that he was merely exercising his right to free speech in the context of on-air one-upsmanship with rival DJ Raashaun Casey of Hot 97, the suit accuses Liu of "naked and unrestrained self-promotion" through "personal crusades" against "convenient targets".

"I don't know what Liu's agenda is," Torain groused, "but enough's enough. He's not a judge. This has to be brought to a halt."

Those sentiments have been echoed by other, more respectable figures. One is fellow New York City Councilman Tony Avella who represents the Douglaston district, the site of an August 12 racist attack on several Chinese American teens. The Monday morning following the attack John Liu called the victims into his Queens office and held a press conference. It received national coverage. He did not invite Avella. The press conference that Avella called a day later made nary a ripple. Understandably, Avella is no fan of John Liu. Liu's seeming eagerness to speak out against every injustice with an Asian victim regardless of the district in which it occurred has no doubt begun chafing at other City Council members.

The suggestion that John Liu, an energetic 39, is driven by political ambition is tossed about with increasing frequency. It doesn't bother Liu.

"It's not something I sought," Liu says of his pioneering status as the first first and only Asian ever to be elected to the City's 51-member City Council — a remarkable fact given that Asians comprise 12% of the Big Apple. "But I happily accept the responsibility that comes along with it. There's a lot of pressures that come along with it, but also lots of opportunity."

Liu isn't shy about declaring his interest in the most obvious of those opportunities, the mayor's job. "Am I interested in running for higher office? Yes, I am," declares Liu without hesitation.

Some may consider the declaration premature for a councilman in the first year of only his second term representing Flushing, Queensboro Hill and several other sections of Queens. But to many Asian Americans, the 39-year-old has shown the mettle to entitle him to a higher-profile post. Those who have grown tired of Asians being pigeonholed as quiet strivers victimized by more assertive segments of American society see in Liu an ideal candidate to lead a new generation of politicians ready to fight for a fair share of clout in our media-driven society.

Liu himself sees destiny at work in his progress toward higher office. For one, he was renamed after John F. Kennedy upon immigrating from Taiwan at the age of five. Fortunately for Liu's prospects in American politics, that sense of destiny is leavened with a generous dose of self-deprecating humor.

"Both my names are slang for toilet," Liu pointed out to a New York Times reporter, "and I represent Flushing. Maybe there is something to be said for destiny."

The parallels go beyond names. As was true for Liu's namesake, Liu is touched by the shadow of a father who strayed outside the law. In addition to renaming his sons John, Robert and Edward, the elder Liu went so far as to rename himself Joseph. He was an ambitious man who rose to become president of Great Eastern Bank, which served a predominantly Chinese clientele in Flushing. In 2001, as his son John was fighting a close race to win his first term in City Council, Joseph was convicted of bank fraud. While his son was enjoying the triumph of his career, Joseph served one month in prison and six months of home confinement. Today John Liu calls his father "a low-level bank clerk".

John Liu's own background was in finance. After graduating from the Bronx High School of Science, a selective public magnet school, and Binghamton University, Liu worked as a manager at the prestigious financial consulting firm of PriceWaterhouseCoopers. He uses that finanancial expertise aggressively to sniff out inefficient or mismanaged areas of city government. As chairman of the Council's Transportation Committee, he has won supporters across ethnic lines by championing reforms to improve bus and taxi service and to improve traffic flow efficiency.

But to many Asian Americans inside and outside New York City, Liu is the hard-nosed crusader who uses the media to force attention on injustices suffered by Asians in America, even those who aren't U.S. residents. In 2005 when U.S. border guards manhandled a female Chinese tourist and caused her to suffer a miscarriage, Liu called national attention to the incident and helped her seek redress through legal action.

The best known of Liu's crusades is pushing the NYPD to find the shooters of Chinese deliverymen FaHua Chen and Shi Yi Yan. So many Chinese deliverymen are routinely robbed and assaulted in New York that the NYPD was suspected of simply going through the motions after FaHua Chen died after being shot in the face. The arrest in late June of the two men accused of the shooting is credited to tips that were phoned in. Arguably, those tips may never have come in but for the publicity generated by Liu's efforts. Arguably the police may not have worked those tips so thoroughly but for the pressure brought to bear by Liu. Liu made the nation sit up and take notice of the value of the lives of those anonymous Chinese deliverymen. That left a deep impression on many Asian Americans.

Some of Liu's crusades produce a more ambivalent sentiment. In early Sepember Liu decried the racial segregation that was the theme of the new CBS Survivor series which debuted on September 14. Together with several other minority city councilmen, Liu held a press conference. "How could anybody be so desperate for ratings?" asked Councilman John Liu rhetorically. Some were inclined to ask the same question about Liu's crusade against a TV show. But most Asian Americans cut Liu slack. He may not always pick the right fights, but John Liu is a fighter who enjoys the limelight and that's something that Asian America needs.
CUNG LE | JOHN LIU | ROY LEE | JOHN JUANDA | MICHELLE WIE | DARING ASIAN AMERICANS UNDER 40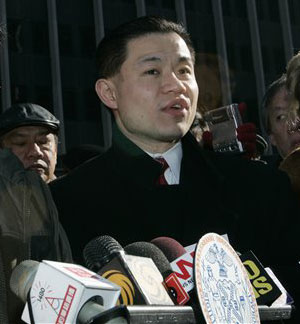 Councilman John Liu talks to reporters on February 14, 2006 about a miscarriage suffered by Chinese tourist Jiang Zhenxing following mistreatment at the hands of U.S. immigration officials. (AP Photo/Shiho Fukada)
"Am I interested in running for higher office? Yes, I am."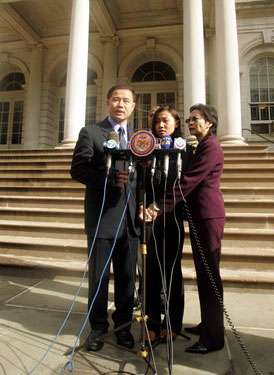 John Liu, right, stands beside Ting Chen, daughter of slain food delivery worker Fahua Chen and District Council 20 Administrator Ellen Young during an October 27, 2005 news conference outside New York's City Hall. (AP Photo/Mary Altaffer)
---
CONTACT US | ADVERTISING INFO

© 1996-2013 Asian Media Group Inc
No part of the contents of this site may be reproduced without prior written permission.