GOLDSEA | ASIAMS.NET | ASIAN AMERICAN PERSONALITIES
AMERICA'S MOST DARING ASIANS UNDER 40
Michelle Wie:
Golf's Ultimate Iconoclast

f the breathtaking swing, 280-yard drives and telegenic face and figure were all Michelle Wie had to offer, she would richly deserve her media darling status, not to mention the $10 million a year in endorsements on turning 16. She could even enhance her superstar status simply by petitioning the LPGA for exception from the 18-year-minimum so she could shine even more blindingly on the women's tour.

Wie refuses to set her sights so low.

Instead she has set herself on a quest to challenge the world's best men on their own turf. In her single-mindedness Wie is willing to sacrifice a good part of her limited tournament life as a teen phenom, and is even risking the very real possibility of turning herself into a quixotic figure, an object of ridicule, even a failure.

So far Michelle Wie has failed miserably in the quest that seems to matter most to her.

In eleven men's pro tournaments she has made the cut in only one. That was at the 2006 SK Telecom Open, a non-PGA event in Incheon, Corea (Korea) in early May with a relatively weak field. It was her eighth attempt at making a men's cut. Strong play in the first two days put her over the cut line. But the monsoon conditions persisted and the tournament was cut down to three wet, gusty days. A third-day 74 tied Wie for 35th place.

In June Michelle Wie failed in her bid to become the first woman to qualify for the U.S. Open. A morning round of 68 kept her in contention for one of the 18 qualifying slots at Canoe Brook. But her afternoon round of 75 dropped her into a tie for 59th place among 153 players.

"I'm satisfied with the way I tried," she said, swallowing her disappointment. "I played my hardest out there. I concentrated until the end." She vowed to try again for the 2007 Open.

In mid-July Wie suffered another setback at the John Deere Classic. After one and a half rounds, she was forced to withdraw from nausea, dizziness, stomach pain and difficulty breathing.

"She ate more than usual at lunch," opined her bewildered father B.J. The more likely reason was heat exhaustion from mid-afternoon temperatures above 90 degrees. Even if Wie had finished out the day, her first-round 77 and half-round 37 suggest she would most likely have missed the cut.

John Deere was an ordeal, but Michelle Wie was in for a more devastating setback at the European Masters. In two days of play she carded bogey after bogey, without a single birdie to ease the sting. Her scores of 77 and 78 put her 22 shots off the lead, dead last in a field of 152 players.

"I'm still in shock," Wie said after Thursday, seemingly on the verge of despair. "I didn't know what sport I was playing out there. I really just couldn't get anything going."

After an equally discouraging Friday, Wie seemed to regret having come Switzerland to play against the men. "I wish I had a little more feel for the game before I came here," she lamented. "It was not my day."

But to everyone's surprise, her determination to challenge the men wasn't shaken. "My view is that to get better on the men's tour and to be a better player, I have to keep playing men's events," she replied to questions about the wisdom of her course. "If I just play women's events, I only get better at women's events. I feel I have a good balance now."

Her poor play emboldened some of the tour pros to start taking potshots at Wie's ambition. "This is not a golf course I would have said she could play," said Northern Ireland's Graeme McDowell. "She had no chance around here. And I just don't think women can compete against the men."

Michelle Wie could have pointed out that unlike the others at the European Open, she had been living the life of a full-time high school student in Hawaii before arriving in Switzerland. As she prepared to leave Crans-sur-Sierre, she was already looking at the following week's 84 Lumber Classic in Farmington, Pa. as her shot at redemption. "I'm really motivated for next week," she said. "It makes me want to come back and show that I'm a better player than this."

That wasn't to be. Wie's opening-round 77 at Lumber prompted most of the media to write off her cut chances. Wie's famous drives were simply not big enough alongside those of top male pros, commentators noted. They kept landing short, forcing her to use long irons that kept missing the greens.

At the end of the first day Wie's heart was strong enough to take over where her drives left off. "I felt like I played really good," she insisted. "I felt that my iron play was fantastic today. My driver was, aside from a couple of missed shots, pretty good. It didn't feel like I played five over because I hit the ball really good. I think that tomorrow the course owes me a lot of birdies."

Mystic Rock didn't see it that way. It forced on Wie a humiliating 81 the second day, putting her 23 shots behind the co-leaders into another dead last place finish. At that point more than a few people were ready to stop being intimidated by Wie's phenom status. Even those pros who had made supportive noises earlier were wondering aloud why she kept playing against men.

"She's certainly not scaring anybody around here," observed Ryder Cup team member Scott Verplank, who missed the cut as well. "To be honest, I didn't even know she was here.

"If I was her adviser, I would tell her to go kick all the ladies' tails around for about four years and if she wants to try again when she's 20, 21 and grown up more, and maybe a better player, come on back."

Verplant was merely echoing an increasingly common sentiment among tour pros. After all, if Wie were ranked on the PGA tour, she would be number 264 and wouldn't even have qualified to enter the tournament. At that point, no one would have faulted Michelle Wie for deciding to go back to playing against the women while licking her wounds. After all, some could argue that instead of striking a blow for female potential, her humiliating showings against men actually reinforced the prevailing sentiment of a yawning chasm separating male and female golfers. If a 6-foot-2-inch prodigy like Wie couldn't even stack up against third-tier male pros in a relatively tame sport like golf, what hope was there for other women?

But retreat just isn't in Michelle Wie's vocabulary, even though it was the exactly the word that came to Annika Sorenstam after her one and only attempt at playing against the men at the 2003 Colonial. She told the world, in essence, that she had learned her lesson and would stick to LPGA events from there on out.

Michelle Wie is an entirely different type of female. "I just had a bad two weeks, that's it. No more, no less," was her assessment of those disasterous tournaments. "I feel like I'm getting better and better. My game is progressing, my shots are actually going to the fairway now. My shots are feeling solid."

Rather than giving in to the pressure to admit that she had simply gone in over her head, Wie was already zooming in on specific aspects of her game to focus on.

"I have a clear idea of what I have to work on and what I have to do to get better. I'm definitely going to hit the gym."

Whether that's a correct assessment, remains to be seen, but her words showed that she wasn't daunted by what she had undertaken, though knowledgeable observers were coming to believe she has reason to be. Consider that only one woman has ever made a PGA tournament cut, Babe Zaharias in 1945. Zaharias was no mere golfer. She had won a gold and a silver in track in the 1932 Olympics. She was also an expert diver, roller-skater and bowler, not to mention an accomplished tennis, basketball and softball player. She was named Woman Athlete of the Year in 1931, 1945, 1946, 1947, 1950 and 1954. In fact, sports writers collectively consider her the greatest female athlete of all time and one of the best all-round athletes of either gender.

By comparison, notwithstanding her status already as the third best female golfer of all time, Annika Sorenstam is only a golfer. Before she played the Colonial PGA event Vijay Singh let it be known that if he were paired with Sorenstam, he would withdraw from the tournament. Sorenstam's reply was that everyone was entitled to his opinion. True enough, but to hardcore feminists, her decision to walk away cowed after one bad experience competing against men seemed unworthy of the world's top female golfer.

That's why Michelle Wie continues to excite so many. Having gazed into the yawning abyss that could swallow up her career, Wie still believes in her ability to cross it. Michelle Wie may never become a super-athlete like Zaharias, but her unshakeable faith in herself keeps alive our hope of seeing someone overcome thousands of years of social programming. That would be a triumph for us all.
CUNG LE | JOHN LIU | ROY LEE | JOHN JUANDA | MICHELLE WIE | DARING ASIAN AMERICANS UNDER 40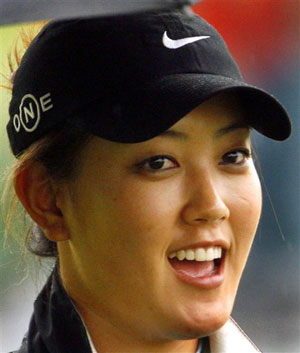 Michelle Wie was in good spirits during practice with coach David Leadbetter the day before the start of the 84 Lumber Classic. (AP Photo/Gene J. Puskar)
"My view is that to get better on the men's tour and to be a better player, I have to keep playing men's events."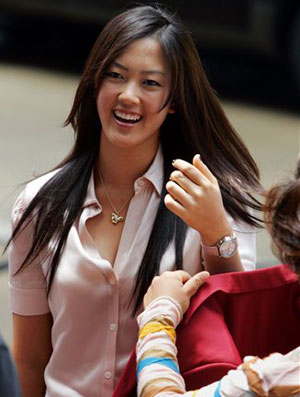 Michelle Wie arrives in Pittsburgh on June 19 to promote the PGA 84 Lumber Classic in which she participated. (AP Photo/Gene J. Puskar)

Michelle Wie looks over her putt for par on the third hole at Mystic Rock Golf Course in Farmington, Pa., during the second round of the 84 Lumber Classic on Sept. 15, 2006. (AP Photo/Mark Duncan)
---
CONTACT US | ADVERTISING INFO

© 1996-2013 Asian Media Group Inc
No part of the contents of this site may be reproduced without prior written permission.