GOLDSEA | ASIAMS.NET | ASIAN AMERICAN PERSONALITIES
GREATEST ASIAN AMERICAN WAR HEROES OF ALL TIME

ou and your buddies are hugging the earth for cover from the systematic raking of the hillside from an unknown number of machineguns entrenched on higher ground. To raise your head means certain death. Yet in minutes your unit will be cut to bloody shreds by the crossfire. You quake as you remember how dearly you have been looking forward to returning home to see the folks again, maybe to marry and have kids. Yet something welling from deep inside tells you that you are the one who must rise and inspire your comrades. The air warps and pops with passing rounds as you hear yourself letting out a savage yell and scramble to your feet to charge the nearest machinegun nest...

The word "hero" has been cheapened by frequent association with athletes and movie stars. Here the word is used in its truest sense: someone who puts duty and loyalty above the cherished hope of returning home to a happy life -- then acts with astonishing bravery and cool-headed skill.

War heroes are admired as embodiments of the human spirit at its most dazzling. Asian American war heroes deserve special admiration. In most cases they were fighting for a country that had treated them and their families as second-class citizens. Rather than letting that diminish their sense of duty, they saw the winning of honor and respect for all Asian Americans as one more reason to fling themselves unsparingly into every fight. Their heroism has armed us with precious ammunition in our continuing struggle to shame spurious challenges to our credentials as Americans.

The great Asian American war heroes featured here represent less than half of all who deserve the honor and are meant to be representative of those who distinguished themselves with the highest levels of self-sacrificing gallantry during World War II, the Corean War and the Vietnam War.
---
* Denotes that he is one of 22 Asian Americans whose Distinguished Service Crosses were upgraded to Medals of Honor on May 12, 2000. Medals of Honor are awarded "for conspicuous gallantry and intrepidity at the risk of his life above and beyond the call of duty" Eight of the 22 had been killed in action. Seven had died since World War II. Seven were on hand to receive the medals from President Clinton on June 21, 2000.

CONTINUED BELOW
---
---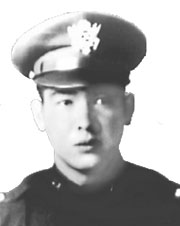 Captain Francis B. Wai
U.S. Army
Congressional Medal of Honor (Posthumous) *

Captain Francis Wai landed at Red Beach during the U.S. assault on Leyete Gulf, Philippines on October 20, 1944. Seeing that the first four waves of American soldiers had become leaderless, disorganized and pinned down on the open beach, Wai assumed command. In the face of accurate, concentrated enemy fire from guns placed on a palm grove protected by submerged rice paddies, Wai issued orders while crossing the paddies. His cool demeanor inspired the men to rise and follow him. During the advance Wai exposed himself repeatedly to enemy fire to determine the locations of gun placements. He was killed while leading an assault on the last remaining enemy pillbox. The quick securing of the initial beachhead was credited largely to Captain Wai's bold and courageous leadership under intense fire.
---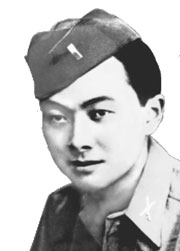 Second Lieutenant Daniel K. Inouye
U.S. Army
Congressional Medal of Honor *

On April 21, 1945 Second Lieutenant Daniel Inouye led his platoon in an attack of a ridge guarding a key road junction near San Terenzo, Italy. Boldly and skillfully Inouye directed his men through focused and intense enemy fire to quickly surround and capture an artillery and mortar post within 40 yards of the main enemy force. Three well-sheltered machinegun nests defended the approach with crossfire. Inouye crawled up the slope to within five yards of one nest and destroyed it with two grenades. He then rose to attack a second nest. He was hit by sniper fire but continued his assault on the remaining nest until his right arm was shattered by a grenade fragment. He refused evacuation and continued directing his men until the ridge was secured.

Daniel Inouye spent 20 months in an Army hospital in Battle Creek, Michigan. He was discharged honorably as captain on May 27, 1947 and went on to attend the University of Hawaii, then to earn a law degree from George Washington University. After serving as a deputy DA for the city of Honolulu, he was elected to the Hawaii Territorial House of Representatives in 1954. He was elected to the U.S. Senate in 1962. Today he is serving his seventh term and is the Senate's third most senior member. PAGE 2
"In the face of accurate, concentrated enemy fire from guns placed on a palm grove protected by submerged rice paddies, Wai issued orders while crossing the paddies. His cool demeanor inspired the men to rise and follow him."
CONTACT US | ADVERTISING INFO

© 1996-2013 Asian Media Group Inc
No part of the contents of this site may be reproduced without prior written permission.