GOLDSEA | ASIAMS.NET | ASIAN AMERICAN PERSONALITIES
GREATEST ASIAN AMERICAN WAR HEROES
OF ALL TIME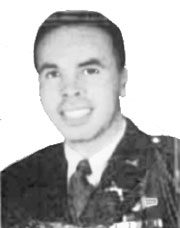 Staff Sergeant Rudolph B. Davila
U.S. Army
Congressional Medal of Honor *

Staff Sergeant Rudolph Davila participated in the offensive to break through the German mountain strongholds surrounding the beachead established at Anzio. On May 28, 1944 near Artena, Italy, the machinegunners under Davila's command were caught on a hillside exposed to fire from entrenched German forces. Seeing that a rifle company was badly in need of machinegun support, Davila crawled fifty yards to the nearest machinegun, set it up alone and began firing at enemy forces. Davila braved accurate enemy fire to shoot from the kneeling position to better guage the effect of his fire. He ordered a gunner to take over and crawled to a forward vantage point to direct effective fire with hand signals until both enemy machineguns had been silenced.

Davila brought his unit's three remaining machineguns into action and drove the enemy back two hundred yards. After taking a bullet in the leg, Davila rushed to a destroyed tank, and despite enemy fire on the hull, used the turret as a position from which to engage a second German entrenchment.

He then left the turret to negotiate 150 yards of open terrain under enemy fire toward a house containing five enemy defenders. He silenced them with a grenade and his rifle, and climbed to the attic. Straddling a large shell hole in the wall, he opened fire and continued firing even as the walls were crumbling around him until he had knocked out two more enemy machineguns.

Davila's bold action knocked out four enemy machinegun nests and brought supporting machinegun fire to help a rifle company in desperate straits.
---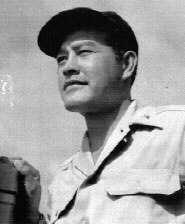 Rear Admiral Gordon P. Chung-Hoon
U.S. Navy
Navy Cross and Silver Star

Rear Admiral Gordon Paiea Chung-Hoon was honored for conspicuous gallantry and extraordinary heroism as commander of the destroyer USS Sigsbee during two battles in the spring of 1945.

During the spring of 1945 the Sigsbee helped shoot down 20 Japanese fighters while screening a carrier strike force off Kyushu.

On April 14, 1945 the Sigsbee suffered a crippling kamikaze strike while on radar picket duty off Okinawa. The destroyer's port engine and steering control were disabled. Rather than order an evacuation, Chung-Hoon rallied his men to maintain highly effective anti-aircraft fire while performing repairs to enable the ship to limp to port.

Gordon P. Chung-Hoon was born fourth of five children on July 25, 1910 in Honolulu, Hawaii. While a midshipman at the Naval Academy he played football on the team that ended an 11-year drought against Army. Chung-Hoon graduated in 1934. At the time of the Japanese attack on Pearl Harbor, Lieutenant Chung-Hoon was attached to the USS Arizona. Chung-Hoon commanded the Sigsbee from May 1944 to October 1945. Rear Admiral Chung-Hoon retired from the Navy in 1959 and was appointed by Hawaii's first elected governor to serve as director of the state Department of Agriculture. Gordon P. Chung-Hoon died in July 1979.

An Aegis guided missile destroyer named in Chung-Hoon's honor was commissioned on January 11, 2003.
CONTINUED BELOW
---
---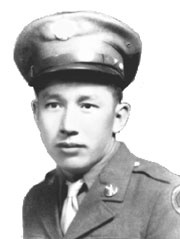 Private Barney F. Hajiro
U.S. Army
Congressional Medal of Honor *

Private Barney Hajiro conducted himself heroically during three separate engagements on October 19, 22 and 29, 1944 near Bruyeres and Biffontaine in eastern France.

On October 19 Hajiro was performing sentry duty atop an embankment when he jumped into action to help allied forces attacking a house 200 yards away. He deliberately drew enemy fire to expose their stronghold, then directed fire toward it. He then went to the aid of a unit to his right by using his rifle to knock out two enemy snipers.

On October 22 Hajiro and another soldier ambushed a heavily-armed 18-man enemy patrol. They killed two, wounded one and took the rest prisoners.

On October 29 in a woods near Biffontaine, Hajiro ran 100 yards up a hill known as "Suicide Hill" under fire. He pulled about 10 yards ahead of his platoon, thereby drawing fire from camouflaged machinegun nests. He single-handedly charged them and destroyed two machinegun nests and killed two snipers.
---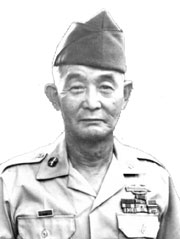 Private First Class Kaoru Moto
U.S. Army
Congressional Medal of Honor *

On July 7, 1944 near Castellina, Italy PFC Kaoru Moto was serving as first scout. He spotted a machinegun nest firing on his platoon. On his own initiative Moto managed to get to within ten paces of the nest and killed the gunner. The assistant gunner immediately turned the gun toward Moto who managed to evade it and crawl around behind it. Surprised, the enemy gunner surrendered. Moto took his prisoner to the vicinity of a nearby house and guarded it to prevent the enemy from using it as an observation post. Moto spotted an enemy machinegun team moving into position. He engaged it with effective fire, forcing the enemy to withdraw. Moto was severely wounded by a sniper firing from another house. He applied first aid and continued advancing. After he was relieved of his position so he could move to the rear for treatment, Moto spotted another machinegun nest while crossing a road. He opened fire and wounded two of the three-man crew. Moto then crawled to a better position and ordered the remaining enemy to surrender. When he received no answer, Moto began firing, forcing the surrender.
---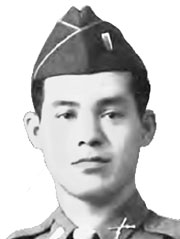 Technical Sergeant Yeiki Kobashigawa
U.S. Army
Congressional Medal of Honor *

On June 2, 1944 Tech Sergeant Yeiki Kobashigawa participated in a battle near Lanuvio, Italy. His platoon came under fire from a number of machinegun placements. With one of his men Kobashigawa crawled toward a nest 50 yards away. Kobashigawa threw a grenade, then charged the position. He killed one soldier and captured two others. He and his comrade began receiving fire from a second machinegun 50 yards ahead. Kobashigawa directed one squad to move up to the captured nest, then crawled toward the second machinegun nest with one other soldier. Kobashigawa threw a grenade into the nest, then provided supporting fire while the other soldier charged the nest. After capturing four enemy soldiers, Kobashigawa spotted four more machinegun nests and led his squad in neutralizing two of them. PAGE 3
"Straddling a large shell hole in the wall, he opened fire and continued firing even as the walls were crumbling around him until he had knocked out two more enemy machineguns."
CONTACT US | ADVERTISING INFO

© 1996-2013 Asian Media Group Inc
No part of the contents of this site may be reproduced without prior written permission.