GOLDSEA | ASIAMS.NET | ASIAN AMERICAN PERSONALITIES
THE 130 MOST INSPIRING ASIAN AMERICANS
OF ALL TIME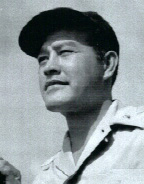 Gordon Chung-Hoon


he destroyer under his command suffered a crippling kamikaze attack during a fierce naval battle off Okinawa. Rather than order an evacuation, Chung-Hoon rallied his men to maintain highly effective antiaircraft fire while performing repairs to enable the ship to limp to port. His distinguished leadership under heavy fire earned him the Navy Cross, and a half century later, an Aegis guided missile destroyer named in his honor.


Back To Main Page
---
CONTACT US | ADVERTISING INFO

© 1996-2013 Asian Media Group Inc
No part of the contents of this site may be reproduced without prior written permission.