GOLDSEA | ASIAMS.NET | ASIAN AMERICAN PERSONALITIES
THE 130 MOST INSPIRING ASIAN AMERICANS
OF ALL TIME
Hiram Fong

ven among the many inspiringly self-made people in the United States Senate, Hiram Fong draws gasps of admiration at the sheer tirelessness with which he raised himself from a dirt-poor immigrant background. He began working at the age of four by picking mesquite beans for ten cents a 30-pound bag, and ultimately worked his way through Harvard Law School before founding the Honolulu law firm of Fong, Miho, Choy and Robinson from which he launched his 17-year career in the U.S. Senate. The tireless Fong (who died August 18, 2004) was the first Asian American in the U.S. Senate and remains the only U.S. Senator of Chinese ancestry.

Hiram Leong Fong was born on October 15, 1906 in the Kalihi district of Honolulu. He was the seventh of 11 children of immigrants from China's southeastern Guangdong Province. Hiram's father had come at the age of 15 as an indentured sugar plantation laborer and his mother at the age of 10 as a maid.

Hiram's working life began even before he enrolled at Kalihi-Waena Grammar School. Between the age of four and seven he picked algarroba (mesquite) beans to sell as cattle feed. He then moved on to shining shoes and selling papers on Honolulu streets until the age of ten. His next ventures were catching and selling crabs and fish while delivering poi on the side. While attending McKinley High and St. Louis College (a high school) Hiram caddied for a quarter for each nine-hole round.

After high school Hiram spent three years working as a clerk in the supply department of the Pearl Harbor Naval Shipyard to save up money for college. While attending the University of Hawaii he worked three jobs at once — bill-collector, correspondent for the Honolulu Advertiser and tour guide at local Buddhist temples. He didn't let the demands of supporting himself keep him from editing Ka Leo, the UH newspaper as well as the yearbook Ka Palapala, and serving as adjutant of the ROTC unit. Hiram also made time to win an oratorical contest and participate in the debating, volleyball and rifle teams. His first trip away from the islands was as a member of the Hawaii Civilian Rifle Team at the National Matches at Camp Perry, Ohio in 1929. He did all that while earning a B.A. degree and a Phi Beta Kappa key in three years flat.

After college Fong spent two years as Chief Clerk of the county's water system to save up money for law school. He entered Harvard Law School in 1932. Upon graduating in 1935 he spent three years as a deputy attorney for the city of Honolulu before winning election at the age of 31 to the Territorial House of Representatives. In that same year of 1938 he married the former Ellyn Lo, a former schoolteacher who had graduated UH with a bachelors in education. They had four children: Hiram, Jr., Rodney, Merie-Ellen Gushi, and Marvin Allan. They are also survived by ten grandchildren and two great granddaughters.

While serving in the Territorial House, Fong took off two years during WWII to serve as judge advocate of the 7th Fighter Command of the 7th Air Force. Upon his return he was elected to the post of Vice Speaker (1944- 1948). He spent six years as Speaker (1948-1954), having earned a reputation for working well with Democrats as well as his fellow Republicans.
CONTINUED BELOW
---
---
During those years Fong and partners founded the law firm of Fong, Miho, Choy and Robinson which took pride in the fact that they represented Honolulu's Chinese, Japanese, Korean and Caucasian populations. Fong was also a prosperous businessman instrumental in founding many successful companies, including Finance Factors, Finance Realty, Finance Home Builders, Finance Investment, Finance Factors Foundation and Market City, among others.

An ardent, longtime advocate of statehood, Hiram Fong became the first Hawaiian in the U.S. Senate when the Territory became a State on August 24, 1959. Fong won reelection to two more full terms. As a Republican, Fong's landslide victory in 1964 was notable in light of the fact Democrat Lyndon Johnson swept Hawaii with 78.8% of the votes. Fong set an all-time Senate record by running 31.8% ahead of his Party's presidential candidate. In the Senate Fong distinguished himself by becoming the ranking member of the Committee on the Post Office and Civil Service, the second ranking Republican on the Judiciary Committee, and the fourth ranking Republican on the Appropriations Committee.

Fong easily won reelection in 1970 and retired at the end of that term on January 2, 1977 to devote his energies to gardening, a hobby he had taken up in 1950. His boundless energy turned even that hobby into a grand venture. By importing and personally planting countless varieties of flowers and fruit trees from around the world, Fong ultimately created a 725-acre horticultural wonderland in Kahaluu, Oahu which came to called Senator Fong's Plantation and Gardens. Hiram Fong could be found there working and enjoying conversation with visitors until his death at the age of 97.


Back To Main Page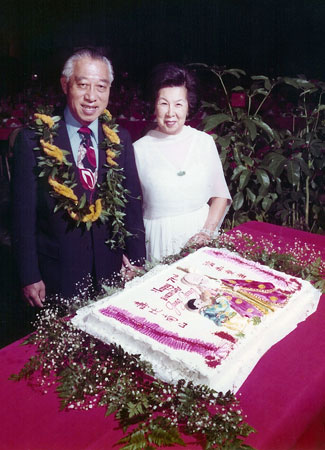 Sen. Hiram Fong celebrates his 71st birthday with wife Ellyn.
"While attending the University of Hawaii he worked three jobs at once — bill-collector, correspondent for the Honolulu Advertiser and tour guide at local Buddhist temples."
---
CONTACT US | ADVERTISING INFO

© 1996-2013 Asian Media Group Inc
No part of the contents of this site may be reproduced without prior written permission.