GOLDSEA | ASIAMS.NET | ASIAN AMERICAN PERSONALITIES
THE 130 MOST INSPIRING ASIAN AMERICANS
OF ALL TIME
Carrie Ann Inaba

erception: a lucky dancer tapped to judge Dancing with the Stars. Reality: a seasoned pro with two decades of experience in every aspect of show business. Carrie Ann Inaba is a singer, dancer, actor, choreographer and the head of a small video-production company for which she directs, writes and edits film. Regardless of the fate of Dacing spinoff Dance War: Bruno vs. Carrie Ann (2008), Carrie Ann Inaba is a key personality on a series concluding its 6th season in the No. 2 spot. She has even had a hand in TV's perennial No. 1 show American Idol on which she worked several years as choreographer. More than any other Asian on American TV, Inaba embodies wholesome energy, a lively sense of humor and ice-water candor — all without a trace of the stereotypical exotic sexuality, submissiveness or comical accent typically assigned Asian females.

Carrie Ann Inaba was born on January 5, 1968 in Honolulu, Hawaii, the second of two children of Japanese, Chinese and Irish ancestry. She was attending exclusive Punahou School when she and her best friend won a statewide talent competition with a number they had choreographed. A Japanese talent scout invited the 16-year-old Carrie Ann to go to Tokyo to become a teen idol. Carrie Ann was astute enough to wait until she graduated high school in 1986 before accepting the invitation. During the two years she spent in Tokyo releasing three singles with Pony Canyon Records she continued her education at Tokyo's Sophia University and improved her fluent Japanese.

"It wasn't what I thought it was going to be," she later said of the decision to return to the States. "What they were doing is marketing your face. It had nothing to do with creating a great song or great lyrics. But I got to learn so much about how the business works, and I got to meet people from all over the world who are still my close friends."

Inaba moved to California in 1988 and studied choreography at UC Irvine. She soon decided to pursue a dance career and moved to Los Angeles to study at the Debbie Reynolds Studios in North Hollywood while continuing her education at UCLA. Her first dancing gig was appearing in a music video for Terry Lin. She also danced as one of the Fly Girls on In Living Color from 1990 through 1992. In 1993 she went on The Girlie Show tour with Madonna which required her to shave her head and train with a stripper. She had gigs with Ricky Martin and David Copperfield, among others. These experiences only deepened her love of dance. Her dancing ability and stunning looks also landed her small acting jobs in movies like Monster Mash: The Movie, Lord of Illusions, Showgirls, Boys and Girls, Flintstones II, Freak and American Virgin.

Sadly, Inaba's most visible role was in the Austin Powers satire Goldmember (2002). She played Fook Yu, the twin of Fook Mi played by Diane Mizota. Inaba and Mizota would later reprise the roles with Mike Myers in a Motorola commercial. In hopes of making the most of the potential opportunities presented by these bit parts, Inaba took up taekwondo and yoga.

Ultimately, however, it was Inaba's dance work that led to the big break of her relatively unrewarding 19-year career on Hollywood's periphery. In 2005 her agent told her that ABC was interviewing potential judges for an American version of a longtime British reality series built around competitive dancing. Having worked as a choreographer on American Idol, All American Girl, The Sexiest Bachelor in America Pageant, The Miss America Pageant and several other TV shows, Inaba decided she was qualified.

"I went in and interviewed with pretty much every other choreographer here in Los Angeles and New York," Inaba recalls. "They would match up different people to see the chemistry. I ended up being very lucky and they chose me."

Dancing with the Stars was a surprise hit from its first season in 2005, turning Carrie Ann Inaba into a household name virtually overnight. But Inaba has continued to pursue other ambitions. One is to put herself into a position to create other TV series based on live performances. She laid out her own money for cameras and edit bays and started EnterMediArts, Inc, a video production company in which she writes, directs and edits. Her work includes E! Behind The Scenes Miss America Special, 7th Festival of the Pacific Arts, A Portrait of IVI and Beyond the Dancing Image, along with the short feature film Black Water. She also appeared in the first season of So You Think You Can Dance during the audition stages where she provided choreography for the "choreography round".

Inaba currently lives in Los Angeles with her three cats: Squeaker, Taz and Shadow. Her goal remains to perform in a Broadway production as dancer, singer and actor. "To be a triple threat like that would be wonderful," she said.
Back To Main Page
"To be a triple threat like that would be wonderful."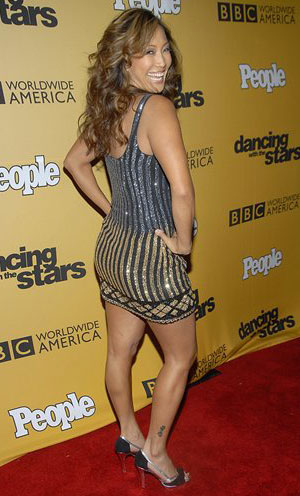 (AP Photo/Dan Steinberg)
---
CONTACT US | ADVERTISING INFO

© 1996-2013 Asian Media Group Inc
No part of the contents of this site may be reproduced without prior written permission.