GOLDSEA | ASIAMS.NET | ASIAN AMERICAN PERSONALITIES
THE 130 MOST INSPIRING ASIAN AMERICANS
OF ALL TIME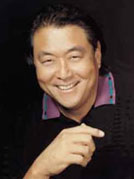 Robert Kiyosaki

n the world fashioned by Hollywood Asian gurus wear flowing robes and spout metaphysical aphorisms to guide others along the evolutionary path to dealing whoopass to deserving baddies. In real life, there's Hawaii-born Robert Kiyosaki. His bestselling Rich Dad, Poor Dad has turned him into a financial guru who teaches others how to realize the eminently non-mystical dream of high personal wealth and early retirement.

Kiyosaki himself retired at the age of 47, presumably from his ventures selling waterproof surfing wallets and financial advice. He used his own money to publish Rich Dad in 1997. Its surprising success attracted the attention of Warner Business Books which republished it in April 2000. Since then the book has been a perennial bestseller. It has spawned follow-up titles Rich Dad's Guide to Investing, Rich Kid, Smart Kid, and a board and video game called Cashflow.

We can't say whether Kiyosaki's books have turned anyone into millionaires. But it's inspiring to see a polo-shirt-clad Asian American giving materialistic advice on personal finance to millions of hard-headed Americans.
Back To Main Page
---
CONTACT US | ADVERTISING INFO

© 1996-2013 Asian Media Group Inc
No part of the contents of this site may be reproduced without prior written permission.