GOLDSEA | ASIAMS.NET | ASIAN AMERICAN PERSONALITIES
THE 130 MOST INSPIRING ASIAN AMERICANS
OF ALL TIME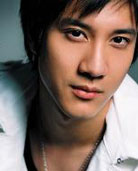 Leehom Wang

ny Asian American who has ever felt that, in an Asian-centric world, he might have become a pop star instead of a doctor, accountant or computer engineer can point to Leehom Wang. Not only has Wang attained international pop stardom, he has done it while coining a new, uniquely Asian genre. His "chinked-out" music incorporates tribal sounds from China, Tibet, and Mongolia with more classical influences to create a sound that feels culturally rooted. Heroes of Earth, his most recent album, takes typical pop candy chords and infuses them with strains that could only have come from the Beijing Opera.

At 22 Wang became the youngest artist to win the Golden Melody Awards, Taiwan's equivalent of the Grammies, for Best Male Artist of the Year and Best Producer of the Year. A years later he became the youngest Best Producer of the Year and Best Male Vocalist at the Golden Melody Awards of 1999. Wang has released 10 Mandarin and two Japanese albums. His concerts attract hordes of screaming female fans in Singapore, Bangkok, Hong Kong, Taipei and Tokyo. He even has a big role Lust, Caution, the next big-budget movie from Oscar-winning director Ang Lee.

Leehom Wang was born May 17, 1976 in Rochester New York. He is the black sheep from a family of doctors. His father is a pediatrician, his older brother is a Yalie doctor based out of Chicago. His younger brother, also a doctor, graduated from MIT. Wang himself is no academic slouch. He was high school valedictorian, scored a perfect 1600 on his SATs, and was accepted to both Yale and Princeton. But passing up Ivy prestige for the chance to pursue his passion, attended Williams College and the Berklee College of Music. His defection to music was finalized in 1995 when, while vacationing in Taiwan, he was signed to a professional recording contract.


Back To Main Page
---
CONTACT US | ADVERTISING INFO

© 1996-2013 Asian Media Group Inc
No part of the contents of this site may be reproduced without prior written permission.