GOLDSEA | ASIAMS.NET | ASIAN AMERICAN PERSONALITIES
THE 130 MOST INSPIRING ASIAN AMERICANS
OF ALL TIME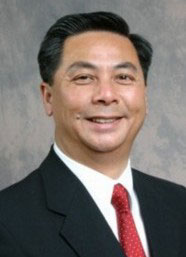 Hubert Vo

t's conventional wisdom that Vietnamese Americans vote republican. Going against the grain, Hubert Vo made his bid for the Texas State Legislature in 2004 as a Democrat by challenging a powerful Republican incumbent who had been weakened by a bizarre scandal. A few months before the election Talmadge Heflin had raised eyebrows by making an eccentric and unsuccessful bid to claim his former housekeeper's 20-month-old child.

Any politician who wins his seat by 16 votes has to wonder if he isn't challenging fate. That's the slender margin by which Hubert Vo was elected to represent Houston in the Texas assembly. But he first had to survive charges of voter fraud brought by Heflin, a 22-year incumbent who had been chairing the powerful House Appropriations Committee. In the wake of the election, Heflin argued that if illegal votes are weeded out, he would end up with a 5-vote vitory instead of a 33-vote loss. Vo countered that discounting improper votes would actually have increased his margin to 36.

State Representative Will Hartnett was appointed as special master to sift through voting irregularities. Texas Democrats rallied Asian Americans to pressure their elected representatives not to support Heflin's challenge. When the dust had settled, the only voting irregularities turned up were a couple dozen ballots cast twice by confused voters, only a handful of whom were Vietnamese. The special master made his finding of a 16-vote Vo win. By early February Heflin threw in the towel and Vo made a gracious speech calling Heflin a "good man".

Hubert Vo's skin-of-the-teeth entry into the Texas legislature was no more difficult than his long and arduous struggle to graduate from college. After arriving in the U.S. Vo worked a wide variety of jobs including waiter, busboy, cook, convenience store clerk, phone book updater, goldsmith and data technician. He supported himself through the University of Houston by working nights as a steel worker at the Hughes Tool company. Vo managed to work his way up the ranks at Hughes from a forge shop assistant to a master machinist while progressing toward his 1983 bachelor of science degree in mechanical engineering.

That degree gave him the credibility to start a business that sold computer systems and networking services to local government agencies. By 1995 Vo had saved enough to buy an apartment building. Since then he added several more apartments and developed an office/shopping mall in the Houston suburb of Alief. And now Hubert Vo has added the distinction of becoming the first Vietnamese American elected to the Texas Legislature.
Back To Main Page
---
CONTACT US | ADVERTISING INFO

© 1996-2013 Asian Media Group Inc
No part of the contents of this site may be reproduced without prior written permission.