GOLDSEA | ASIAMS.NET | ASIAN AMERICAN PERSONALITIES
THE 130 MOST INSPIRING ASIAN AMERICANS
OF ALL TIME
B. D. Wong

. D. Wong's role as Dr George Huang on nearly 160 episodes of the perennial favorite Law & Order: SVU makes him a genuine Asian American celebrity. Yet his openly gay lifestyle and the fact that he won a Tony in 1988 for playing a Chinese spy so androgynous he could get away with posing as a woman in a long-term sexual relationship with a French diplomat (M. Butterfly) inspire ambivalence in Asian Americans battling the American media's well-documented tendency to undermine Asian masculinity. But on balance Wong's personal courage, his subtle craft as an actor, and his unmistakeable assertion of an Asian American sensibility in his roles make B. D. Wong an inspiring figure for many Asian Americans as well as others striving to lead an alternative lifestyle.

Bradley Darryl Wong was born on October 24, 1962 in San Francisco's Sunset District. An early interest in music was encouraged by his parents. A drama teacher at Lincoln High nudged him toward acting. Wong became a regular of the Bay Area community theater scene while attending high school and San Francisco State University. Upon graduation he moved to New York. At the age of 20 he made his professional acting debut in the New York Town Hall production of Androcles and the Lion. Along with roles in small off-Broadway productions, Wong landed parts on the CBS series Simon and Simon and PBS's Sesame Street. The Karate Kid II (1986) provided his first movie role.

Wong's first major role was playing Song Liling in the Broadway production of David Henry Hwang's M. Butterfly. To preserve the ambiguity of the gender-bending role, he shortened his name to B. D. Wong. A nation beleagured by the rapid rise of Asian economic power and assertiveness was seduced by the reassuring racial dynamics of a bygone era implicit in M. Butterfly. A Tony and several other awards were lavished on Wong as well as on the production itself.

Wong's newfound fame won him small speaking roles in Hollywood productions like Jurassic Park (1993). Some of those roles were of a gay man, like Kico Govantes in And the Band Played On and a gay wedding planner in Father of the Bride and its sequel (1991, 1995), but the actor himself remained closeted for public consumption for fear of hurting his acting career.

"I'm a pretty private person," Wong told zap2it.com in 2003, "just not a big discloser in general... I entered a field that was particularly non-welcoming to me as an Asian-American. The opportunities already were somewhat limited to me, so it felt almost like a kind of career suicide to be completely out as a gay man."

In real life Wong had entered into a long-term relationship with his agent Richie Jackson shortly before his Broadway debut. Jackson, Wong told an interviewer for The Advocate in 2003 , was "a New York Jew who never steps off the curb until the light turns green."

In 1998 the couple decided to fertilize the egg of Richie's sister with Wong's sperm and have it be carried by a surrogate mother. The resulting twins were born over three months prematurely in late May of 2000. The first, named Boaz Dov, died shortly after birth. After three months of intensive hospital care that left B. D. Wong emotionally ravaged, Jackson Foo Wong survived.

The long emails that Wong took to sending a thousand friends during this difficult period were compiled, together with many of the responses, into a book titled Following Foo: The Electronic Adventures of the Chestnut Man (Harper Collins, 2003). The book served as Wong's coming out notice. Wong was filled with apprehension about his career at the time. Ultimately, however, he came to take pride in the decision.

"I was no longer blinking an eyelash about my sexual orientation because I had a human experience — parenthood — that transcended my fear of being judged," Wong told the Daily Pennsylvanian.

Wong's career has continued to thrive both on stage and in Hollywood, including the acclaimed prison priest Father Mukada in the long-running HBO cable series OZ. However, his relationship with Richie ended in the summer of 2004.
Back To Main Page
"I was no longer blinking an eyelash about my sexual orientation because I had a human experience — parenthood — that transcended my fear of being judged."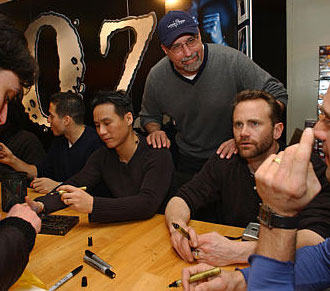 (AP Photo/ Louis Lanzano)
---
CONTACT US | ADVERTISING INFO

© 1996-2013 Asian Media Group Inc
No part of the contents of this site may be reproduced without prior written permission.