"I may not know much about making movies," Li told him, struggling to keep down his anger. "I've only made two, and I'm very young. So can I ask you a simple question? If the shot list calls for a scene to be shot at daybreak and the crew is ready at 3:00 a.m., and then the director shows up at 10:00 a.m. and says the light's all wrong, is he wrong or am I? If you say I'm wrong, then I guess I really don't understand this industry, in which case I promise to go back home right now and never make another movie. On the other hand if you think the director's the one who needs to learn something about filmmaking, then maybe you'll agree that he owes the entire cast and crew an apology."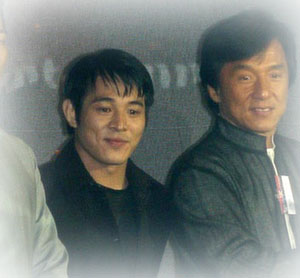 Jet Li has expressed an interest in teaming up with Jackie Chan in a future film.



The producer agreed with his star and forced the director to apologize. That incident reinforced Jet Li's growing sense of duty to be a true champion of the Chinese people. It also convinced him that he wanted to direct his own movies. Chief among his motivations was having the opportunity to expose social inequity. The result was Born to Defense (1986), a film about the inequity in the way Chinese and American soldiers were treated at the end of World War II. The film flopped miserably. It was Li's first and final attempt at directing, and heralded a dry spell in his acting career as studios beame leery about hiring him. Convinved that his troubles arose from a lack of artistic freedom, Lee began seeking U.S. citizenship.

On one of his frequent trans-Pacific trips Li ran into acclaimed Hong Kong action director Tsui Hark. From Tsui Li learned the importance of good scripts and direction. Hark starred Li in Once Upon a Time in China (1991), a martial arts film set in a legendary era of Chinese history. The film thrilled audiences and critics alike, reestablishing Li as China's top action star and inspiring two successful sequels as well as offers for half dozen projects back-to-back.

Jet Li's starpower attracted interest from every Hong Kong studio, including those financed by the triad. An early 90s bidding war for Li's services led to the shooting in Kowloon of Li's personal manager Jim Choy after Li refused a triad offer.

The Swordsman 2 -- a hit filmed simultaneously with Once Upon a Time in China -- is the only film in which Li deviates from his strait-laced image. Despite its box office success, it left a bad taste in Li's mouth by having forced him to violate his own ideas on proper deportment toward women. To spare himself similar predicaments, he set up his own production company.

By the mid 90s Li's reputation was piqueing interest in Hollywood. He was Quentin Tarantino's choice to star in a Miramax project intended to duplicate the success of Jackie Chan's Rumble in the Bronx (1996). That one never got off the ground, but there was no shortage of offers. The best were to appear in Jean-Claude Van Damme's Knock Off or in Lethal Weapon 4 (1998). Li chose to play the lethal Wah Sing Ku, sparking even more interest in him as a martial artist with American appeal.

"I played 25 movies in Hong Kong and I always played a hero," Li told an admiring CNN interviewer. "This is the first American movie, the first time I played a villain."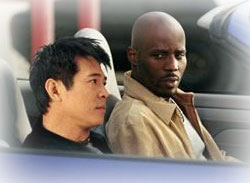 Jet Li and rap star DMX in Cradle 2 the Grave (2003).



In his second American film, Warner Brothers's Romeo Must Die (2000), Jet Li reverts to hero status opposite the late pop diva Aaliyah. That was followed in quick succession by Paris-set action drama (Kiss of the Dragon (2001)) opposite Bridget Fonda, mediocre sci-fi thriller The One (2002), a rap action flick Cradle 2 the Grave (2003) co-starring DMX, and the video game Rise to Honor (2003). In addition Miramax bought the rights to several of Jet Li's Hong Kong productions, including Hero (2002), for re-release in the U.S. with appropriate subtitles.

On a financial level, Li's Hollywood career has been on a steep incline. His salary jumped from $2.4 million for Romeo to $5 million for Kiss of the Dragon to $7.5 million for The One. These figures contrast dramatically with the earnings from his first Shaolin movie: $700.

Jet Li's immediate future looks even brighter. Not only is he starring in the Crouching Tiger Prequel -- sure to be one of the most eagerly awaited films of 2005 -- but will star in a big-budget martial arts flick to be produced by Oliver Stone. Adding a new dimension to his acting career, Li plays a slave who has lived his whole life without a normal human education in an arthouse action flick called Danny the Dog.

Asked why he declined to participate in the Matrix sequels, arguably two of the decade's biggest martial arts flicks, Jet Li points out that his involvement would have made no difference to the film's success. In other words, Jet Li sees himself as having progressed beyond the point of serving as a supporting player in any project, no matter how big.

Yet all of his success has not changed one aspect of his persona: his diffidence with women. He has never kissed any of his female co-stars on screen, much to the disappointment of some fans.

"I can feel very brave through all the action scenes in front of the people who are on the set," he explains, "but when a girl comes close to me my face turns red because I'm so shy."

Being intensely private, Jet Li doesn't discuss his personal life except to the extent it relates directly to a point he's making. Around the time Nina gave birth to his daughter Jane on April 19, 2000 Jet Li hired a tutor and began spending four hours a day to improve his English. He also devotes time to studying Tibetan Buddhism under Lho Kunsang, a Tibetan holy man who acts as Li's religious teacher and is said to be the eighth reincarnation of an important Tibetan lineage. At the moment of his birth in a holy province in Tibet witnesses saw a strange white light surrounding his birth site and a bucket of water turned into milk.

Li describes Tibetan Buddhism as a "mixture of traditional Buddhist teachings with Indian yoga and tantra." He goes on to explain, "These two aspects are very different from one another. The original teachings of Buddha, first off, are contained in scriptures called sutras. They are very traditional, in that they advocate renouncing the self-ego to the maximum extent possible. Desire is bad. Desire is the root of pain. Avoid extremes. Take the middle way. That is the traditional way of enlightenment.

"Such a practice, however, might be difficult for many individuals, in a world so filled with material distractions and experiences. So, Tibetan Buddhism figured out another way. It doesn't reject desire or ignore the ego altogether. Instead, it aims to purify our primal urges by using them to help attain spiritual development. Work with what we have, with what we are faced. This is an alternative way to enlightenment."

The religion is in line with Li's characteristic blend of principle and pragmatism.



More than his relationship with god, fans seem to have an intense curiosity about his relationship with Jackie Chan.

"I have met Jackie Chan about 6 times up till now," says Li. "Even though many people think we are natural enemies, I personally think he is a cool bloke and would honestly love to work with him in a film one time - that would be a well brilliant movie!" What is he likely to say to Chan if they happen to tangle on a film set?

"You can beat me up, but don't touch my hair -- I will kill you!"
"I can feel very brave through all the action scenes in front of the people who are on the set, but when a girl comes close to me my face turns red because I'm so shy."
CONTACT US | ADVERTISING INFO

© 1996-2013 Asian Media Group Inc
No part of the contents of this site may be reproduced without prior written permission.