ASIAN AMERICAN PERSONALITIES
Lisa Ling slows down just long enough to share her views on Rick Yune, Old Navy and her new life as TV's most peripatetic journalist.

by Tom Kagy


CONTACT US | ADVERTISING INFO

© 1996-2013 Asian Media Group Inc
No part of the contents of this site may be reproduced without prior written permission.
GOLDSEA | ASIAMS.NET | ASIAN AMERICAN PERSONALITIES
Tele-Kinetic Explorer
PAGE 1 OF 8

or 15 years now Lisa Ling has been a body in motion. Not to violate any laws of physics, she won't be slowing down until her momentum is deflected by outside forces -- say a stationary career and a family. Ling's hopeful estimate of when such forces might overtake her trajectory? Three to five years.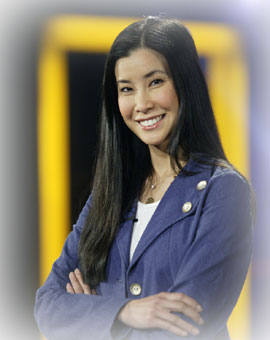 PHOTO MARK THIESSEN © NGT&F


Why would the most successful Asian American television journalist be planning to give up a career in its prime? For some insights we have to go back to her earliest years.

Lisa Ling was born August 30, 1973 in Sacramento. She was only seven when her parents divorced. She chose to live with her father. Television provided escape from her sense of isolation. As a 15-year-old, Ling was pushed by her speech teacher to enter an open audition for a syndicated teen magazine show called Scratch. Five hundred other kids had the same idea. Ling's potential as an eyecatching TV personality was immediately recognized and she was one of four teens chosen.

The oddball Asian kid from a broken home in a white suburb had become a charmed denizen of the surrogate reality that had been filling the void in her life. By the time she was ready for college, Ling had proven to be enough of a standout to land a job as Channel One's youngest globetrotting reporter. She put in 40-hour weeks at the satellite broadcast company's Hollywood studio while carrying a full load at USC.

Ling's drive and engaging high-energy personality took a predictable toll on her personal life. Before she turned 25 she was appointed Channel One's senior war correspondent. The job kept her shuttling among two dozen troubled nations that most high school kids can't even locate on a world map. A relationship was impossible under those conditions, but Ling capitalized on her experiences to produce eight PBS documentaries, including several award-winners.

In 1999 the young star caught the eye of Barbara Walters and was invited to become a host on The View. The show gave her a chance to expand her appeal beyond high school youth but its format seemed to cramp her journalistic style. From covering events of geopolitical significance, Ling was reduced to jockeying with three other hosts to contribute chitchat about the more mundane concerns of daytime TV. Some of her unexpended journalistic energies were channeled into writing articles as a contributing editor for USA Weekend.

Around that time Ling appeared in an Old Navy TV commercial which may have done more than any other single media event to bring her to the forefront of the Asian American consciousness. The commercial featured her cavorting about with five men. Her tagline: "I like my men strong and good-looking." The problem -- in the minds of irate Asian Americans -- was that none was Asian. Ling became a lightning rod for the ire which, in fairness, might have been directed toward Old Navy, especially because its CEO happened to be a Chinese American woman.

The other development that put Ling's name on Asian American lips was her romance with Corean American actor Rick Yune. They met at a People Magazine conference on teens in February 2001. A onetime Polo model and stock-trader, Yune had become an Asian heartthrob thanks to an intriguing performance in Snow Falling on Cedars (1999). His star soared in 2002 with the release of two big-budget features in which Yune played the main bad guy: The Fast and the Furious and Die Another Day. Ling and Yune were hailed as the Asian American glamour couple. Their Asian-on-Asian celebrity romance seemed to defy old patterns and was hailed as a milestone for the Asian Amerian image.

CONTINUED BELOW
---
---
The romance lasted two years, ending in the spring of 2003 at around the time Ling was named to host National Geographic Ultimate Explorer (Sundays at 8 p.m. ET/PT on MSNBC). Ling attributed the relationship's demise to conflicting career demands, and kicked off her NGUE gig with a timely segment on Yao Ming, easily the year's most sensational athlete.

In mid September, having just returned intact from being fired upon by Columbian guerillas, Ling spoke to us from Sacramento where her father is recovering from a bypass operation. Used to being on the other end of the microphone, Ling is sensitive to the scope of each question, taking care not to stray off topic. She is also careful to inject pauses between words, phrases and sentences. As the conversation progresses she allows herself some liberties. Toward the end, her voice has taken on the qualities of the eager teen that entered the Scratch audition fifteen years earlier.

Lisa Ling is, in fact, a creature of enthusiasm -- animated by curiosity and the kinetic energy of a body in motion. She is also a regular guy -- intimating, conspiratorial, joking, ingratiating. It's obvious that she enjoys the challenge of building rapport with new people. It's also painfully clear that she is sensitive to criticism -- surprisingly so for someone who has been in the public eye for half of her life. And she doesn't hide her yearning for the kind of durable relationship which, so far, has found no place in her life.

GS: Where did your recent trip take you?
LL: I just came back from 3 weeks in Columbia, working on a story about the drug wars and the new president's efforts to combat drug trafficking.

GS: What is the typical lag between your travels and the air date?
LL: For example, I just got back from Columbia last week and this is going to air November 13, so just over a month.

GS: Where is your new job based?
LL: Based in Washington D.C.

GS: So you've moved your residence to D.C.?
LL: Well, I don't really have a home. I'm kinda all over the place. I still have my apartment in New York, but I also have one in D.C. I'm just not there very often. I still consider my primary residence New York. I average 5 days a month in D.C.

GS: Are you in New York even that many days a month?
LL: No, I'm in New York fewer days, but I own that apartment and I still consider it home.

GS:How has your daily routine and lifestyle changed since moving from The View to National Geographic Ultimate Explorer?
LL: Well, I don't have a 9-5 job. It's much more fluid in that regard. I do traveling in three-week intervals. Then I'll come back for a few days and I'll come to California to visit the family and head right back out. I'm going to Mexico tomorrow at 6 a.m. PAGE 2
"Well, I don't really have a home. I'm kinda all over the place."