GOLDSEA | ASIAMS.NET | ASIAN AMERICAN PERSONALITIES
FAMOUS ASIAN AMERICAN OX
JOAN CHEN
The Return
Driven away by Hollywood's repugnant roles, Joan Chen returns to acting on her own terms.

he best testament to Joan Chen's persevering ox nature is that even as she moves into her late 40s, over 30 years into her acting career, she is busier than ever.

The last three years she has starred in 10 varied and farflung films, including the Singaporean The Leap Years, Australian The Home Song Stories and Mao's Last Dancer, Chinese The Sun Also Rises, 24 City and Shi Qi, Taiwanese Lust, Caution, and American Americanese, Tonight at Noon and All God's Children Can Dance.

Some might ascribe Chen's staying power to pretty face and sexy petulance. Those assets were certainly key to her first big Hollywood splash in flicks like Taipan, The Last Emperor and the Twin Peaks series. But in the last 15 years Chen has gravitated toward hard-core character roles that are notably, even perversely, devoid of references to her exceptional allure.

Her somewhat premature shift into the craft side of acting came in 1992 when she played a wrinkled, gap-toothed Vietnamese peasant in Oliver Stone's brilliant box-office dud Heaven & Earth. It is probably no coincidence that this period coincide with Chen's 1992 second marriage to Chinese American cardiologist Peter Hui. After all, ox people see happy and stable family life as life's paramount ideal.

"[The goal of becoming a top international star] doesn't seem to be as important as when I didn't have anything else in my life," Chen told Transpacific Magazine soon after her marriage. "Now I have a family. I have a real home, a place I really want to come back to."

Yet, in keeping with the ox's devotion to work and productivity, Chen admitted that she couldn't be happy without a career.

"I will always have a career," she said. "I believe in working. I don't believe that taking care of your house and children is enough for a woman. You don't feel complete."

Whether it was Chen who shunned Hollywood's insatiable appetite for exotically seductive Asian wenches or whether Hollywood's ardor faded after Chen became a familiar face after David Lynch's Twin Peaks TV series may be a distinction without a difference. Chen saw her temptress roles as way to unload that aspect of herself.

"You're having fun playing the evil streak you suppress all your life that has nowhere to go," she explained. "You can play bad characters and have great fun. I have outlets for my emotions and I study them so I'm aware of my own jealousy, my own greed. I know what is good. I think being an actress keeps me a better person."

If her theory is valid, Chen became a much better wife material by taking on three highly sexual roles filmed around the time of her marriage. In Clara Law's The Temptations of a Monk (1993) she played both a seductive princess and a wicked temptress. In Stanley Kwan's Red Rose, White Rose (1994) she played an adultress. Her most sexually daring performance was in the otherwise forgettable Hollywood B flick Wild Side (1995) in which a fully nude Chen engaged in long, steamy lesbian sex with Anne Heche. it made the toe-sucking scene in The Last Emperor look like a child's party.

"I'm sure I have a temptress inside of me," Chen admitted. "I won't ever encourage this temptress to grow. I don't give her any opportunity in my life, but I'msure it's there. So I guess it's great, I have an outlet for that. I can have fun with that."

Joan Chen was born Chen Chung on April 26, 1961 to a pair of eminent Shanghai doctors who were both Harvard-educated. Their parents in turn has been educated in Oxford. Joan's parents were among the elite sent down for reeducation during Mao's Cultural Revolution. At age seven Joan and older brother Chase found themselves being forced to share their home with several families who were total strangers.

At age 14 Joan was was discovered on a shooting range by Mao's wife Jiang Qing and recruited into the state-run acting school. Within a year the teen was famous throughout China as an actress playing virtuous peasant girls in state-sponsored propaganda films. The social constraints imposed by the revolutionary heroine roles began to chafe, and as she neared the end of her teen years, Chen was desperate to escape. Fortunately, in 1980 her parents were invited to conduct research at New York's Sloan-Kettering Medical Institute. A year later Joan Chen obtained permission to leave China to study filmmaking in the U.S.

Within months China's most popular actress found herself waitressing in a San Fernando Valley Chinese restaurant while attending Cal State Northridge. To supplement her income she began auditioning for bit parts in small films. At age 23 she married a young entrepreneur named Jim Lau. Chen's first acting break came when Dino DeLaurentiis spotted her leaving an audition. He cast her as the concubine in the much-panned Tai Pan (1986). That role led to the breakthrough role in Bernardo Bertolucci's acclaimed 1987 costume epic The Last Emperor. By then Chen's marriage was already on the rocks.

After the 1990 Twin Peaks series Chen settled into a string of a dozen B movies, including On Deadly Ground (1994), Judge Dredd (1995) and The Hunted (1995). During this period she seems to have gone out of her way to avoid sexual or stereotypical roles. She did portray a sexpot in Temptations of a Monk (1993), but it was hardly a reprisal of the stereotypically submissive concubine.

As she entered her 30s Joan Chen had lost little of the petulant beauty and allure that had once made her "China's Elizabeth Taylor" and one of the "World's Most Beautiful People". Her aversion to sexual roles may have coincided with her 1992 second marriage to San Francisco cardiologist Peter Hui with whom she had a daughter in 1998 and a second two years later. They live in a posh town home in San Francisco's exclusive Russian Hill district though Chen seems to spend a good deal of each year in Shanghai.

For some years following her marriage Chen all but vanished from the Hollywood scene until transforming a friend's short story into Xiu Xiu: The Sent-Down Girl (1999) and reemerging as a director. Most of the film's $1 million budget came out of Chen's own pocket. The six Golden Horses it won in Taiwan translated into barely $1 million at the U.S. box office, however.

Its critical notices did persuade MGM to let Chen direct Autumn in New York (2000). A $50 million production with Richard Gere and Winona Ryder as the leads couldn't save the morose chick flick from box office oblivion. Chen's prospects as a Hollywood director dimmed later that year when she was dropped from the helm of an upcoming remake of The Apartment.

Chen admitted that she turned to directing to escape the B-movie rut into which she had fallen after portraying a seductive and mysterious mill owner in 16 of David Lynch's offbeat Twin Peaks TV series. At age 40 Chen's career veered toward small indie films. She played a middle-aged Vietnamese American housewife in What's Cooking? (2000) and a 90-year-old drama queen in the Singaporean film Avatar (2001). Among Asian Americans Chen got the most attention for Saving Face (2004) in which she played a middle-aged woman who gets herself pregnant and turns up in the home of her lesbian daughter.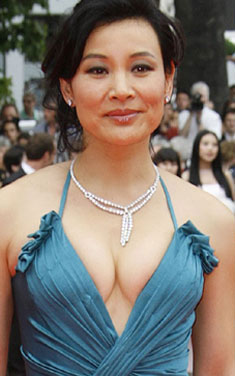 (Reuters)
"I'm sure I have a temptress inside of me. I won't ever encourage this temptress to grow."
CONTACT US | ADVERTISING INFO

© 1996-2013 Asian Media Group Inc
No part of the contents of this site may be reproduced without prior written permission.