GOLDSEA | ASIAMS.NET | ASIAN AMERICAN PERSONALITIES
FAMOUS ASIAN AMERICAN OX
ICHIRO SUZUKI
The Unstoppable
Ichiro Suzuki defied the early appraisals of seasoned managers to reach the pinnacle of pro baseball.

he apparent ability to slap a ball at will through any gap gives Mariners leadoff man Ichiro the aura of a swashbuckler gifted with a superabundance of natural ability. Nothing could be further from the truth. Major-league baseball's all-time on-base record-holder came by his legendary success the long, laborious way — as befits a true ox.

Ichiro's training began at age seven. Sensing right away that he was ill equipped to shine on a field filled with bigger, stronger players, the diminutive boy asked his father for help. Nobuyuki Suzuki put his son on a daily building regimen that would have exhausted a pro: hitting 250 balls shot by a pitching machine, then another 250 thrown by the elder Suzuki, fielding 50 infield balls and 50 outfield balls, and throwing 50 pitches.

"It might have been fun for my father," Ichiro recalls, "but for me it was a lot like Star of the Giants (a manga and anime series about a young boy subjected to a brutal training regimen by his father). It bordered on hazing and I suffered a lot."

Like a good ox Ichiro endured without wavering in his resolve to become a professional baseball player. To remind himself of the seriousness of his purpose, as a Little Leaguer he even inscribed "Concentration" on his glove. The long hours of hard work paid off. He was picked by a high school renowned for its championship baseball teams. The fact that the coach ended up using the small, skinny Ichiro to pitch is a testament to the amount of arm strength the young man had acquired by then.

Despite that assignment Ichiro managed to post an amazing .505 batting average. By graduation he was still only 5-9 and 124 pounds, and the pro clubs mostly scorned him. He wasn't picked by the Orix Blue Wave until the final round of the 1991 draft. To add to Ichiro's early tribulations, the manager disliked his odd batting style which incorporates a pronounced weight shift in his swing motion. He hit a home run off Hideo Nomo, already recognized as the most promising pitcher of his generation, and found himself being sent down to the farm team the same day.

The only stroke of luck Ichiro enjoyed in his early career was the arrival of a new manager in 1994. Sensing both control and power in Ichiro, he brought him back up and assigned him to the top of the batting order. That instantly reversed the young player's fortunes in startling fashion. He went from only 12 hits with a .188 average in 1993 to 210 hits in 130 games in 1994, then a Japanese record for season hits. His .385 batting average was also a record for the Pacific League. That year he won the first of seven consecutive batting titles.

That season also saw the birth of the "Ichiro" legend. Hoping to distinguish the promising young player from the numerous other Suzukis in pro baseball, the manager decided to put "Ichiro" on the back of his jersey. Being a typically low-key ox Ichiro himself disliked the idea. But the ploy helped turn him into a household name. The endorsement offers poured in, making Ichiro one of Japan's most famous athletes practically overnight.

The very next season Ichiro led the Blue Wave to its first Pacific League Pennant in 12 years. He also led the league with 80 RBI, 25 home runs and 49 stolen bases. The next season the Blue Wave went all the way, winning the Japan Series. The post-season series against the visiting major-league All-Stars from the U.S. gave Ichiro his first taste of playing against major leaguers. He decided to set that as his goal.

Despite all his Japan success, Ichiro wasn't spotted as a potential star by the U.S. managers who scouted him, even by 1998 when Ichiro batted .380 and stole seven bases in a 7-game series against the U.S. all-stars. U.S. team manager Mike Hargrove predicted that if Ichiro played in the U.S. majors he would "be no better than "a fourth outfielder on [an American] major league team."

It didn't take Ichiro long to make Hargrove eat his words.

On November 9, 2000 Ichiro was signed by the Mariners to a 3-year $14 million contract. Skeptics predicted that Ichiro was simply too small and weak to withstand the major league's 182-game season or to deal with major-league pitching. Not only did he prove he belonged, Ichiro had a remarkable 2001 season, accumulating 242 hits (the most by any player since 1930 as well as a rookie record) and leading the league with a .350 batting average and 56 stolen bases, the latter being the most in the AL since Kenny Lofton's AL rookie record of 66 in 1992.

By mid-season Ichiro's uncanny hitting put him on the cover of Sports Illustrated. He helped the Seattle Mariners match the 1906 Chicago Cubs' Major League record of 116 wins. The Japanese import became a media sensation on both sides of the Pacific. Japanese fans began taking pricey trans-Pacific tours to watch a few of his games. A contingent of 150 Japanese reporters began following him on road trips.

Ichiro became the first rookie to become a top vote-getter for the All-Star Game. By the end of his first season with the Mariners he won the American League Most Valuable Player and the Rookie of the Year awards. The only other player to have earned both honors in a single season was Fred Lynn.

By now Ichiro has established himself in the record books in a way that is unlikely to be matched for at least another generation. Seven Gold Glove awards, eight All-Star selections from 2001 to 2008 and a 56-game stretch in 2004 in which he batted over .450 are stats that outshine even baseball legends. Joe DiMaggio batted .408 during his record-setting 56-game hitting streak. Between 2001 and 2004 Ichiro had 924 hits, more than anyone over any four-year period. He then broke his own record in 2004-2007 by scoring 930 hits.

Ichiro's achievements aren't likely to diminish for some time, if his discipline and dedication are any indicators. He is known for showing up for games an hour before his teammates to go through an extended stretching routine. Even while at home in the off-season he takes dozens of practice swings each day.

Ichiro Suzuki was born October 22, 1973 in Kasugai, Nishikasugai in Aichi Prefecture. He lives with wife Yumiko in the exclusive Medina neighborhood (also home of Bill Gates) on the shores of Lake Washington. They have no children.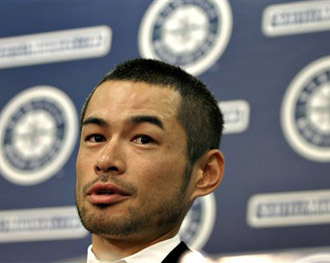 (AP Photo)
"It might have been fun for my father, but for me it... bordered on hazing and I suffered a lot."
CONTACT US | ADVERTISING INFO

© 1996-2013 Asian Media Group Inc
No part of the contents of this site may be reproduced without prior written permission.