GOLDSEA | ASIAMS.NET | ASIAN AMERICAN PERSONALITIES
FAMOUS ASIAN AMERICAN OX
CHAN HO PARK
The Resurrection
Former Dodgers ace Chan Ho Park has worked his way back from one of baseball's most spectacular flameouts.

ne of the pleasant surprises of the 2008 MLB season was the resurrection of Chan Ho Park as a Los Angeles Dodger.

For the first time in years the onetime superstar wasn't sidelined by disabilities or ailments. He was even seen cranking up a few fastballs in the upper-90s like the strikeout king who once commanded a $65-million contract. A 4-4 record while pitching middle relief may not sound impressive, but for a pitcher pulling out of a spectacular seven-year tailspin, it is an almost miraculous comeback. More importantly, in mid December it landed him a shot at a starter role with the Phillies for 2009.

You might say Chan Ho Park is a born-again ox.

In 1994 Park became a media sensation when he signed with the Dodgers as the first Korean player in the majors. On April 8, 1994 he made history by pitching an inning of relief against the Atlanta Braves, becoming the second Asian player to pitch in a major-league game after Masanori Murakami in 1965.

Through early years of ox-like hard work Park had built a two-seam fastball that inspired admiration, even awe. When it was on, he made knees knock. When it was off, he gave away grand slams. Park remains the only pitcher in MLB history to give up two grand slams to the same batter in a single inning (in April of 1999 to third baseman Fernando Tatis of the St. Louis Cardinals).

Park's glory days came during his eight years with the Dodgers organization when he made himself the team's ace by dedicating himself, with oxlike humility and diligence, to developing control.

In his first season as a fulltime starter in 1997 Park notched a 14-8 record and a 3.38 ERA in 32 games. Next year he went 15-9 with a 3.71 ERA in 34 starts, striking out 191 batters in 220.2 innings. He also led the South Korean national team to the gold medal in the Asian Games.

In 2000 Park had 217 strikouts, the second highest total in the National League. He was also number two in opposing batting average (.214). He finished the season 18-10 and even threw his first complete-game shutout on September 29 against the San Diego Padres. In 2001 he threw the Dodgers' first season opening shutout since 1981. He was picked to appear in the 2001 All-Star Game.

In Los Angeles Park found a true home in a pitcher-friendly stadium surrounded by the nation's biggest Korean community. As the Dodgers's homegrown ace Park was progressing steadily toward the top of the sport. And the Dodgers wanted him to stay forever.

But they couldn't match the 5-year, $65-million contract dangled by the pitching-starved Texas Rangers in December of 2001. At a yearly salary of $13 million it would make Park the first Asian player to rank among the top 20 best-paid players in baseball. It would also make him the 5th highest-paid pitcher of the day.

In signing that contract Park chose status and money over loyalty and security, going against the deepest values of an ox's nature. Perhaps for that reason, the Rangers contract is cited by fans as the beginning of the end for Chan Ho Park's major-league career.

From his first season with the Rangers Park showed signs that he was at odds with himself. His 2002 ERA jumped up to 5.75 as he tallied a disappointing 9-8 record in 25 starts. From there, it was all downhill. Suffering from a strained hamstring that many attribute to his efforts at living up to his impressive contract, Park was able to start only 7 games. He ended the season with an abysmal 1-3 record and a 7.58 ERA.

On and off the disabled list, Park delivered only 16 starts in 2004. The Rangers were sorely disappointed. Yet the following season, with over 2 years and $29 million left on his contract, Park surprised everyone by rising to the challenge of winning a contested spot on the starting rotation. He stayed healthy enough for 20 straight starts. In April he even won Player of the Month.

But as spring turned to summer Park lost all semblance of control over his trademark fastball. On July 24th he was charged with an 8-5 loss to the Athletics after allowing six runs on nine hits before the end of the 4th inning. That was the last straw. The Rangers traded Park to the San Diego Padres. During what remained of the season Park started 10 games and compiled a respectable 4-3 record for the Padres.

In 2006 Park was stricken by a mysterious ailment whose suymptoms included severe intestinal bleeding requiring immediate surgery. Several teammates offered their blood. Park declined the offers of active players to avoid hobbling the team but did receive transfusions from blood donated by Jake Peavy's wife Katie and the Padres' team massage therapist Kelly Calabrese.

In August the intestinal bleeding resumed. This time the doctors were able to diagnose the cause as Meckel's diverticulum, a rare condition. Park underwent surgery just 6 days before his wife Rie gave birth to their first child, a girl. The operation proved successful and Park rejoined the Padres on October 3, 2006 for Game 1 of the NL Division series against the Cardinals. It was Park's first post-season appearance, and to date, his last.

The worst was yet to come.

On February 8, 2007 Park signed a 1-year $3-mil. contract with the Mets, but a poor showing during spring training got him sent down to New Orleans. He was called up on April 30 only to give up 6 hits and 7 runs in four miserable innings. Three days later Park was sent back down.

Chan Ho Park hit rock bottom after he was traded to the Houston Astros that summer. He was immediately assigned to Triple-A Round Rock where he compiled a humiliating 2-10 record. It goes without saying that Park never earned a spot on the Astros roster. Observers wrote him off as having reached the end of his career.

But Park wasn't ready to hang it up. Instead, he got back in touch with his inner ox and decided to rededicate to rebuilding his career. With the hope of reclaiming his happy early days in Dodger blue, on November 8, 2007 he accepted L.A.'s offer to attend spring training as a non-roster invitee. His contract and salary, Park revealed in his blog, "was similar to a rookie at the start". But, with his painfully won sense of humility and perspective, he was happy to be back.

"Dodgertown is the spring camp venue where I first started my Major League dreams," Park said. "The important thing is that I will be able to play for a team that I always missed."

He didn't make the cut as a starter and was sent down to the farm on March 30, 2008. But just three days later, tallying a pitching staff sapped by three long games, the Dodgers bought out Park's minor-league contract and assigned him to the bullpen.

On May 17, 2008, against the Anaheim Angels, Park made his first start as a Dodger since 2001. He allowed two runs (one earned run) in four innings with no decision. The game was noted as the first time in MLB history that all three pitchers on a team were Asian: Park, Hong-Chih Kuo, and Takashi Saito. The Dodgers won 6-3.

Park's star rose on June 21, 2008 when he started against the Indians at Dodger Stadium and notched 9 strikeouts in 5 innings, giving up only one earned run (a solo homer) for a win. Again he made history by joining Kevin Brown, Al Leiter, and Jamie Moyer as the only pitchers to start a game against all 30 Major League teams.

The reason for Park's late resurgence? "Better mechanics, better mentality, better family support, better city," suggested Park. " I donŐt know."

Park Chan Ho was born June 30, 1973 in Gongju, South Korea. His father owned an electronics shop. While attending Kongju High School Chan Ho won Most Valuable Player honors three consecutive seasons. He also won MVP honors at four national prep tournaments which led to a spot on the 1992 and 1993 South Korea national team. Park led South Korea to a silver medal at the Asian Baseball Championship in 1993 by posting an impressive 2.76 ERA. He also led the Korean team to a silver medal at the Summer Universiade in July 1993.

Park was a standout sophomore at Hanyang University in Seoul when the Dodgers signed him as an amateur free agent in 1994.

Park has been married to Ri-hye Park, a professional chef, since November 29, 2005. Their first daughter Elynne was born August 30, 2006. Their second daughter was born in 2008.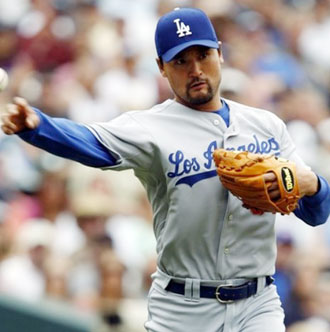 (AP Photo)
"Better mechanics, better mentality, better family support, better city. I don't know."
CONTACT US | ADVERTISING INFO

© 1996-2013 Asian Media Group Inc
No part of the contents of this site may be reproduced without prior written permission.