GOLDSEA | ASIAMS.NET | ASIAN AMERICAN PERSONALITIES
FAMOUS ASIAN AMERICAN PIGS
Chloe Dao:
Founding Fashion Success on Family

he pig person's knack for making the most of warm, supportive relationships with those closest is exemplified by the way Chloe Dao turned six years of experience on New York's Seventh Avenue into an exciting young fashion house of her own.

She began in 2000 by leaving New York to move back to Houston to live with her parents. The free room, board and laundry service gave her the time and energy to leverage $15,000 in savings, a deck of credit cards, and loans from her erstwhile landlords and an older sister into $70,000 seed money with which to create a trendy boutique from a 1,700-square-foot store. In two years Lot 8 earned enough from a hip 30/70 mix of Chloe Dao originals and items from other labels to let Dao repay all her creditors, both plastic and flesh-and-blood.

A year later when Dao needed help growing the business, she turned to Sydney, the youngest of her sevens sisters, and offered her a 50% partnership to take on the duties of boutique manager. That left the founder more time to create originals. Dao hired an aunt to do all the sewing and paid double her asking price, abundantly displaying the pig's generous and magnanimous nature.

The arrangement kept Lot 8 humming happily along. In 2005 it moved into a bigger space to accommodate a steadily growing clientele. Chloe Dao's original line has grown more slowly. She painstakingly creates only six to ten new pieces per season. But Dao's ample talents and comprehensive skills came into full view in 2006 when she won Season 2 of Bravo's Project Runway. That exposure won her even more media coverage, putting pressure on Dao to expand Lot 8 into something more than a cozy little family affair. Fortunately, being the sixth of eight daughters, Dao has abundant womanpower with which to keep it all in the family for some time to come.
CONTINUED BELOW
---
---
Chloe Dao was born in 1971 in Laos of Vietnamese parents. The entire family of ten immigrated to the U.S. in 1979. Fashion has been Chloe's passion since teen years spent rummaging thrift shops for vintage dresses to rework after her own taste. When she started at the University of Houston, her parents pushed her to major in business marketing. A year and a half later Dao dropped out and enrolled in a community college that offered fashion design courses, then went to New York's Fashion Institute of Technology to learn patternmaking. Those skills earned her a series of jobs that completed her education as a versatile fashion designer who so thoroughly impressed Project Runway judges.
TECH REVIEWER JAMES KIM | ARCHITECT MAYA LIN | AVON CHAIRMAN/CEO ANDREA JUNG | NOVELIST JOHN OKADA | POOL PLAYER JEANETTE LEE | FASHION DESIGNER CHLOE DAO | FAMOUS ASIAN AMERICAN PIGS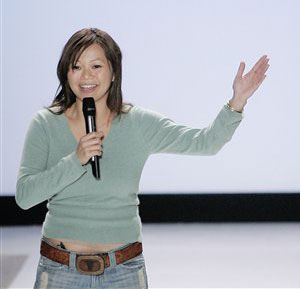 Chloe Dao appears on the runway during the final episode of Project Runway on Friday Feb.10, 2006. (AP Photo/Stephen Chernin)
"Fortunately, being the sixth of eight daughters, Dao has abundant womanpower with which to keep it all in the family for some time to come. "
---
CONTACT US | ADVERTISING INFO

© 1996-2013 Asian Media Group Inc
No part of the contents of this site may be reproduced without prior written permission.