GOLDSEA | ASIAMS.NET | ASIAN AMERICAN PERSONALITIES
FAMOUS ASIAN AMERICAN PIGS
Andrea Jung:
Remaking Avon

t took 118 years for Avon to recognize that a woman should run the company. It took Andrea Jung just 6 years to show Avon that she was that woman. In 1999 she was tapped to become President and COO. Two years later she was promoted to the top post of Chairman and CEO. Her success in turning a moribund brand into the fastest-growing global direct-sales company has put Jung on the short list of U.S. women executives considered most likely to be tapped for a top job in companies even bigger than $8-billion-a-year Avon.

Andrea Jung's career at Avon began in 1993 when the company was losing its edge in the direct sales field. Spooked after experiencing a 1% decline in U.S. sales, the company decided to make itself over into a department store brand. Jung left her post as executive VP at Nieman Marcus to become Avon's consultant in making that transition.

Relying on her keen artistic and aesthetic sensibilities, as well as 15 years of experience in high-end department-store management, Jung went through the product line item by item and pointed out many little things that kept Avon from appealing to a new generation of American women who had grown up aspiring to department-store brands. Jung upgraded the packaging, refined the texture of creams, tweaked lipstick cases and shifted the color spectrum of lipsticks and blushes. Ultimately she prevailed on Avon to drop its department store ambitions and revitalize its direct-sales tradition by turning its product line into less pricey alternatives to department store brands.

The results have been a dramatic turnaround that has doubled sales from $4 billion when Jung took the top post to $8 billion in 2006. She has restored a tired brand to its place as one of the world's top cosmetics companies and the world's leading direct sales brand. Today, Avon has nearly 5 million women ringing doorbells in over 100 countries, including in booming markets like China, India and Russia. One of Jung's proudest achievements has been turning Avon China into a $600-million company as of 2006. In no small measure due to the Mandarin-speaker's tireless efforts, China has recently legalized direct marketing, taking the cap off Avon's growth potential.

Andrea Jung was born in 1959 in Toronto, Canada. She grew up in Wellesley, Massachusetts. Her Hong Kong-born father was an MIT professor who became a partner at a Boston architectural firm. Her Shanghai-born mother was a chemical engineer who became a concert pianist. Andrea graduated cum laude from Princeton in 1979 with a degree in English literature. Law school was next on her agenda. But Jung decided that two years of real-world experience would be good preparation for a career in the rough-and-tumble world of big-firm law.

Though a college career fair Andrea Jung found a job as a Bloomingdales management trainee. She was surprised to find herself enjoying the marketing side. It seemed to combine analytical skills with a healthy dose of creativity and basic human instinct.

"No one in my family had a retail or marketing background," recalls Jung. "They were professionals. They didn't understand just what I was doing by going into retailing. After I started, though, it got into my blood. I knew this was what I wanted."

During her eight years at Bloomingdales, Jung sought out a hardnosed female vice-president to be her mentor. When the mentor left to take the top job at I. Magnin, she asked Jung to come with her. To this day Jung attributes much of her success to the relationship she had developed based on deep personal loyalty.

In 1991 Jung married Bloomingdales CEO Michael Gould. Soon thereafter, she was offered the executive vice president post at Dalls-based Nieman Marcus, a bigger company. By 1993 she was tired of working so far from her husband and took the offer of a consulting post at Avon. Jung has a daughter and a son. She and Gould have divorced.
TECH REVIEWER JAMES KIM | ARCHITECT MAYA LIN | AVON CHAIRMAN/CEO ANDREA JUNG | NOVELIST JOHN OKADA | POOL PLAYER JEANETTE LEE | FASHION DESIGNER CHLOE DAO | FAMOUS ASIAN AMERICAN PIGS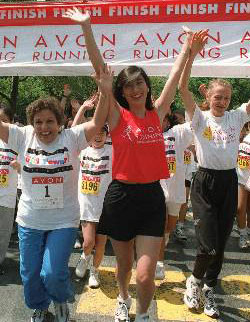 Andrea Jung finishes an Avon fitness run just behind Health and Human Servivces Secretary Donna Shalala. (AP Photo/Marty Lederhandler)
"After I started, though, it got into my blood. I knew this was what I wanted."
---
CONTACT US | ADVERTISING INFO

© 1996-2013 Asian Media Group Inc
No part of the contents of this site may be reproduced without prior written permission.