GOLDSEA | ASIAMS.NET | ASIAN AMERICAN PERSONALITIES
FAMOUS ASIAN AMERICAN PIGS
Maya Lin:
Achieving Monumental Unity

o living architect has shown a more intense devotion to the unity between form and function than Maya Lin. While still a Yale senior, age 21, she submitted her design to a blind national competition for a Vietnam Veterans Memorial. It drew over 1,400 entries. When the selection of Lin's design was announced, many veteran's groups denounced it as a "gash of shame". Perceptions were influenced in no small part by Lin's Asian ancestry. But once the Monument was completed in 1982, even the harshest critics came to appreciate the subtle but compelling visual logic of the polished walls of black granite from southern India.

"As you descend the path along the wall and reach this angle, you realize that one wing of the black wall points straight at the tall, white Washington Monument a mile or so off, and the other at the Lincoln Memorial, visible through a screen of trees about 600 feet away," writes critic Robert Campbell in an article entitled "An Emotive Place Apart." "In making this descent you feel you're entering a cloistered space, set off from the busy surroundings. Streets and skylines disappear to leave you alone with the wall and its names. Then, as you pass the angle and begin to climb, you feel yourself emerging again into the world of noise and light after a meditative experience."

Lin herself describes how her design was born from the project's setting and meaning.

"It was while I was at the site that I designed it," she told Campbell. "Some people were playing Frisbee. It was a beautiful park. I didn't want to destroy a living park. You use the landscape. You don't fight with it... I just knew I wanted something horizontal that took you in, that made you feel safe within the park, yet at the same time reminding you of the dead. So I just imagined opening up the earth."

Within the varied architectural landscape of Capitol Mall, Lin's Vietnam Veterans Memorial has come to embody, more compellingly than any other, the national lesson that reconcilation precedes healing. The opposing wings of the walls meet at a 125-degree angle, joining at their deepest point. Together the walls contain the 58,175 names of those who died in the Vietnam War. When it was built, the memorial defied every American cliche about war memorials. Today it has come to define a new aesthetic in the field.

Lin's other projects have neither drawn similar levels of scrutiny nor attained such prominence. All have been admired as exhibiting her iconic determination to unite form with setting as well as function.

"Interest in the land and concern about how we are polluting the air and water of the planet are what make me want to travel back in geologic time-to witness the shaping of the earth before man," she has said.
CONTINUED BELOW
---
---
Lin's Civil Rights Memorial (1989) in Montgomery, Alabama, Groundswell (1993) at Ohio State University, and The Wave Field (1995) at the University of Michigan all embody her devotion to honoring the land on which a structure is founded.

Maya Lin was born on October 5, 1959 in Athens, Ohio barely a year after her parents immigrated from China. Her ceramicist father was the dean of fine arts at Ohio University. Her mother was a poet and a professor of literature at the same school. Maya showed an early gift for academics, with a particular interest in the sciences. As co-valedectorian of her high school she won easy admission to Yale. While taking a class in burial architecture during her senior year, Lin was urged by professor Andrus Burr to enter the Vietnam Veterans Memorial design contest.

Throughout her career Lin has devoted as much energy to art as to her more famous architectural projects. She expressed her feelings on both subjects in a book entitled Boundaries (2000). A 1994 documentary called Maya Lin: A Strong Clear Vision won the Academy Award, marking her ascension as an American establishment icon. In 2005 Lin was elected to The American Academy of Arts and Letters and to the National Women's Hall of Fame in Seneca Falls, New York. Maya Lin has two children with her husband Daniel. They divided their time between New York and Colorado.
TECH REVIEWER JAMES KIM | ARCHITECT MAYA LIN | AVON CHAIRMAN/CEO ANDREA JUNG | NOVELIST JOHN OKADA | POOL PLAYER JEANETTE LEE | FASHION DESIGNER CHLOE DAO | FAMOUS ASIAN AMERICAN PIGS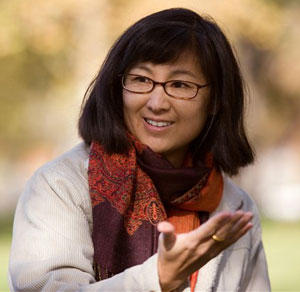 (AP Photo/Jackie Johnston)
"I didn't want to destroy a living park. You use the landscape. You don't fight with it."
---
CONTACT US | ADVERTISING INFO

© 1996-2013 Asian Media Group Inc
No part of the contents of this site may be reproduced without prior written permission.