GOLDSEA | ASIAMS.NET | ASIAN AMERICAN PERSONALITIES
FAMOUS ASIAN AMERICAN RATS
JOHN CHO
Face of Good and Evil
John Cho's acting career has thrived on his ability charm while portraying extreme characters.

he 11th Sexiest Man Alive of 2006 (according to People) isn't sitting on his laurels.

Like any good rat Cho is generously endowed with exemplary industry and ambition, and is working hard to turn himself into the household name he nearly became in 1999 when his character uttered, "She's a MILF" about a schoolmate's hot mom in the teen cult classic American Pie. Even before the Year of the Rat gets underway Cho is awaiting the release of a new Star Trek movie in which he reprises George Takei's Sulu role. And stoner/slacker/buddy movie fans will rejoice to learn that Cho will team up with Kal Penn again to reprise the Harold Lee role in Harold & Kumar Escape from Guantanamo Bay.

A 36-year-old man starring in the misadventures of a pothead slacker? That's just one side of John Cho. Like a good rat, Cho has also been getting in touch with his immense capacity for deceit and ruthlessness. In Michael Kang's acclaimed 2007 transpacific gangster thriller West 32nd Street Cho plays a young lawyer who slides toward the dark side. In a recent episode of the CBS series How I Met Your Mother, Cho is a ruthless recruiter from a corporate law firm out to corrupt youthful idealism.

"It's really just me being an indiscriminate whore," is how Cho described his plethora of evil roles. "I've been a bit worried that people are seeing deep into my soul. This guy will do whatever it takes to achieve an objective."

You can't blame Cho for taking the roles come his way. He has had a string of bad luck with TV series. NBC's The Men's Room and The Single's Table in which he had substantial regular roles never made it on air. Still, Cho isn't doing badly for a guy who graduated from UC Berkeley with the goal of becoming an English teacher.

John Yohan Cho was born June 16, 1972 in Seoul, Korea. He was barely six when his family immigrated. He grew up in Los Angeles. Some of his charisma may come from his minister father. After a B.A. in English from UC Berkeley John taught English at West Hollywood's Pacific Hills High. His first acting break was the MILF guy in American Pie. He married actress Kerri Higuchi in 2007.

Cho's first meaningful acting role came in Better Luck Tomorrow, the film that launched director Justin Lin's career. Cho's character embodies the dangers that can befall a suburban teen given everything but a moral compass. A series of small parts followed, leading to Cho's memorable portrayal of straight-laced, muddled slacker Harold Lee in Harold and Kumar Go to White Castle (2004).

Another of Cho's ill-fated TV projects includes a starring role in the short-lived sitcoms Off Centre and Kitchen Confidential. Cho has recently guest-starred as a ghost on Charmed. In 2007 he was added to the cast of Ugly Betty as the best friend of accountant Henry Grubstick (played by Christopher Gorham). Cho has also had small roles in Bowfinger, American Beauty, Evolution and Down to Earth.

As if that wasn't enough Cho devotes his spare energies to singing lead for an L.A. band of former Cal and USC students called Left of Zed.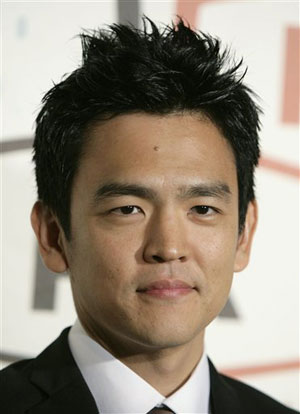 John Cho is currently the most visible Asian American male actor.
(AP Photo/Matt Sayles)
"I've been a bit worried that people are seeing deep into my soul. This guy will do whatever it takes to achieve an objective. "
CONTACT US | ADVERTISING INFO

© 1996-2013 Asian Media Group Inc
No part of the contents of this site may be reproduced without prior written permission.