GOLDSEA | ASIAMS.NET | ASIAN AMERICAN PERSONALITIES
FAMOUS ASIAN AMERICAN RATS
HIRO YAMAGATA
Light Heavyweight
Hiro Yamagata has turned away from his early scenes of earthly happiness toward using light to project cosmic consciousness.

ur visual perception is limited to 0.38 percent of the emitted solar light spectrum," Hiro Yamagata observes. "Though it is natural for humans to believe they perceive everything, there is quite a bit of natural phenomena that our senses are simply not aware of."

That perception seems to mark Yamagata's turn toward crafting spacey laser light installations that seek to conjure cosmic dimensions that simply don't exist in the everyday experience of earthlings. This phase was briefly preceded during the mid 1990s by a restless bout with transforming carcasses of old Mercedes-Benz Cabriolets into outlandish sculptures.

Both phases are a far cry from the Yamagata that charmed the world during the late 1970s and 1980s, first in Paris, then in the United States. Back then he was painting countless sunny canvases, each of which captured an impossible number of lavishly happy moments of city life in painstakingly detailed miniature. Imagine fitting a hundred Norman Rockwells onto a single canvas in a wittily naive style.

Those works of art have apparently fallen out of favor with the highbrow art world today though limited-edition reproductions continue to command many thousands of dollars among Yamagata fans. More sadly Yamagata himself seems to have turned his back on the work that made him, for a decade or so, the world's best-selling artist. At the height of his popularity in the late 1980s and early 1990s, an estimated $4 bil. worth of Yamagata art and artifacts were sold each year. It was enough commercial success to sate even the most ambitious rat.

Those early works were damned by their own success. Yet they were more than throwaway poster art as they seem to have been dismissed today. They embodied Yamagata's sincere, lifelong vision of human life as deserving bright, happy illumination. It was a charismatic vision befitting a true rat, and it appealed to the sunny optimism of the 1980s. Ronald Reagan himself, the sunniest of optimists, tapped Yamagata to paint commemorations of the Statue of Liberty centennial. Yamagata was also commissioned to capture the spirit of the 1984 Los Angeles and 1996 Atlanta Olympics as well as the Bicentennial of the U.S. and the French Revolutions.

It's ironic that Yamagata's skill with intimate mininatures won him the big public triumphs of marking epic events that tend to be devoid of the small joys of everyday life. It may well have been that effort at lending his vision to the heavy-duty task of commemorating official public occasions that caused Yamagata to veer away into the emptiness of an abstract cosmos.

Yamagata's love of the laser as a medium began in 1974 in Paris when he presented a laser installation in a Paris theater. This was during a period in which he developed a strong attachment to the Paris jazz scene, becoming both an angel and a fundraiser for jazz musicians.

Hiro Yamagata was born in Shiga, Japan on June 30, 1948. His love of painting began in elementary school, prompting him to take lessons from a teacher who painted in the traditional Japanese style. After graduation Hiro took part-time jobs in Tokyo's advertising world. His talents were quickly recognized, encouraging him to go to Milan in 1972 to study art with his girlfriend. When that relationship fell apart, he moved to Paris and enrolled at L'Ecole Des Beaux Arts to dedicate himself to painting. Within months he was under constract to a gallery.

Those early years in Paris gave Yamagata a taste of the vibrant artistic world fluorishing there. It was there that he developed the vivid miniature poster style that was so far removed from the Japanese style of his youth. In 1978 Yamagata's commercial potential was spotted by a California company that specialized in the kinds of mass-market art sold in shopping malls and tourist streets. Yamagata moved to Los Angeles and opened a studio. His success afforded him a Malibu home and, for nearly two decades, celebrity status.

In the mid 1990s Yamagata disavowed interest in that success in favor of immersing himself in personal experiences, creating works based on his longtime fascination with light. His first major installation project was "Element", a six-part series using holographic effects, lasers and stage lights. Yamagata sought to engage the observer by moving the gallery out of the gallery into the vastness of the universe. He has continued to hold exhibitions of his installation art around the world, including in Stockholm, Rome, New York, Cincinnatti, Spain, Los Angeles and Yokohama. Unlike the mass appeal of his paintings, his installations have attracted a limited, esoteric following.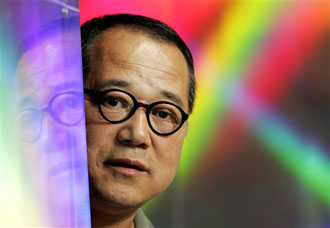 (AP Photo/Kevork Djansezian)
"Though it is natural for humans to believe they perceive everything, there is quite a bit of natural phenomena that our senses are simply not aware of. "
CONTACT US | ADVERTISING INFO

© 1996-2013 Asian Media Group Inc
No part of the contents of this site may be reproduced without prior written permission.