Surprising Superstars
PAGE 1 OF 3

There are pitfalls to bucking expectations, but eight of America's most successful Asians overcame them to enjoy the sweetest of rewards.

by William Nakayama



Dat Nguyen
Dallas Cowboys Middle Linebacker

Tei-Fu and Oi Lin Chen
Founders of Sunrider International
GOLDSEA | ASIAMS.NET | ASIAN AMERICAN PERSONALITIES
SURPRISING SUPERSTARS

here are two kinds of successes — the paint-by-numbers kind and the bolt-from-the-blue kind. In the first, those who follow all the steps can expect to become doctors, lawyers and corporate chiefs. But it's the second kind that fascinates us — the adventurous souls who defy conventional wisdom by shunning the beaten path to set off through the brambles in search of their own. Years later a few emerge scarred but stronger. The only way they know they've stumbled into success is the admiring look in the world's eyes.

This feature looks at eight Asian Americans whose surprising successes have taken them far beyond their original quests for a life of their own.
CONTINUED BELOW
---
---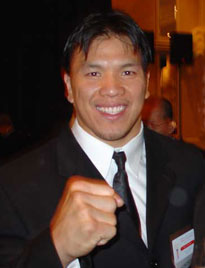 Dat Nguyen
DALLAS COWBOYS MIDDLE LINEBACKER

ammy Nguyen faced a tough choice. She could let her eighth-grader son play football and possibly get injured or she could let him continue spending afternoons with the wrong crowd and end up in jail for stealing.

"I was running around, wasn't coming home at night, and my mom threatened to send me to a boys' school in Missouri," recalls Dat Nguyen, Dallas Cowboys standout middle linebacker. "I wanted to stay with my folks, so I had to find something else to do."

The biggest obstacle to playing football wasn't his mother's fears about injury, however. It was his size. The Vietnamese American boy was small compared to the other boys playing the sport. But he was shown the way by older brother Hung who, at 5-4 and 140 pounds, was even smaller but played center for Rockport-Fulton High. Dat managed to put on some precious pounds by eating as often as possible at the home of best friend Jimmy Hattenbach whose mother served heaping helpings of rich American food.

By the time Dat was running through his college options, recruiters were over the size thing. He was recruited by Division 1 powerhouses like UCLA and Michigan. Dat chose Texas A&M so he could pursue agricultural sciences. And he pursued his studies with far more seriousness than most football stars, racking up a solid GPA while setting an Aggie record with 517 career tackles over 51 consecutive starts. He finished his senior year with a career-high 147 tackles and became the only player in school history to lead Texas A&M in tackles four seasons running.

Those impressive stats earned him some impressive accolades. He was named Big 12 Male Athlete of the Year by the Dallas Morning News. He was the national and Big 12 Defensive Player of the Year his senior year. He won the Lombardi Trophy. Best of all, he was drafted in the third round by the Dallas Cowboys despite his size (5-11, 221 pounds). What everyone was beginning to see was that Nguyen's ability to read a play more than made up for his size and mediocre footspeed.

"It was a great feeling when I got drafted, especially having been such a huge Dallas fan when I was growing up," said Nguyen. "I'm an Asian-American who is now playing America's sport, for America's team — what more can you ask for? That's like a storybook!"

What makes the story complete is the remarkable success Nguyen has seen as one of the NFL's smallest middle linebackers. After two seasons of playing on special teams and backup positions, in 2001 he was promoted to starter at the middle linebacker position. That season he started all 16 games and led the team in tackles. Not even a wrist injury in 2002 could keep him from receiving his well-earned reward: a 6-year $13 million contract.
---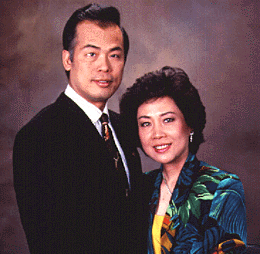 Tei-Fu and Oi Lin Chen
FOUNDERS OF SUNRIDER INTERNATIONAL

ei-Fu Chen and his new bride Oi Lin immigrated to the United States in 1974 in search of an entirely conventional kind of success. They planned to study hard, get into medical schools, become doctors and live in a nice home in the suburbs. Instead, four years later Tei-Fu Chen found himself with a 4-year-old daughter, a pregnant wife, stacks of med school rejections and only seven dollars and fifty cents in his pockets — not even enough to rent an apartment.

"The longer I stayed in the United States," Tei-Fu Chen recalls of what was easily the nadir of his adult life, "it seemed the American dream became farther and farther away from me."

For the moment the Chen family's only option was to live out of their battered car. In desperation Tei-Fu took a series of odd jobs to get his family off the street. It was only when he renewed his early acquaintence with the traditional herbal remedies used by Taiwanese of humble means that his life began turning around. He used his knowledge to find work as a researcher for Nature's Way and Nature's Sunshine. Within four years Tei-Fu was ready to start his own company. Unlike herbal companies that professed to sell remedies for diseases, he wanted to create supplements to keep the body healthy.

While wife Oi Lin attended medical school, Tei-Fu began doing precisely the kinds of traditional things from which he had hoped to distance himself by becoming a medical doctor — boiling herbal extracts in the basement of their apartment. To sell his supplements, Tei-Fu built up the kind of multi-level direct marketing scheme used by his former employers. At last he had arrived at a formula for success.

The Chens faced some severe tests along the way. Exploiting western suspicions of oriental health traditions, numerous lawsuits were filed claiming injury from Sunrider herbal supplements. Sunrider also became the target of scandal pieces by TV networks and newspapers. Tei-Fu Chen's own sister and father filed suits claiming a share of the fast-growing company. Uncle Sam sued for taxes owed on imports and exports of herbal products, casting yet another dark shadow on the Chens. That suit was ultimately settled for tens of millions.

The Chens survived the tribulations thanks to the most valuable of their traditional remedies — family closeness. They and their four children became a support network for one another. By the mid-90s Sunrider International had grown into one of the world's biggest and most profitable food supplements company, with several million user-distributors in 38 countries and sales of a billion dollars a year. Its business headquarters were moved into a sparkling $45 million complex in Carson, California and the Chens themselves moved into a spectacular mansion they could never have afforded had they realized their original dream of becoming doctors. PAGE 2
"I'm an Asian-American who is now playing America's sport, for America's team — what more can you ask for? That's like a storybook!"
CONTACT US | ADVERTISING INFO

© 1996-2013 Asian Media Group Inc
No part of the contents of this site may be reproduced without prior written permission.