Mother knew best. By the time Tabuchi was a teen-ager, he was the leader of a group of boys with a passion for American country and western music. Shoji's fate was sealed when he was 17. He and his friends went to a concert featuring Roy Acuff and the Smokey Mountain Boys. The lanky Japanese kid was enchanted by Howdy Forrester's rendition of birdlike sounds with his violin while playing "Listen to the Mockingbird".

That night Tabuchi decided that he was not going to become a corporate executive like his father. "Since I went to see Mr. Acuff, I got into country music and bluegrass music." At the age of 18 Tabuchi founded a band called Bluegrass Ramblers. It ultimately won the all-Japan band competition. Tabuchi became something of a minor celebrity among Japanese country music fans and had a standing invitation to perform on the Asahi TV channel. He even made enough money as a musician to buy himself his own car, a rarity in the Japan of the 60s.

But he knew that his only chance for a real career in country and western music would be in the States. In 1967, a few months before he would have graduated with a bachelor's in economic from Osaka's St. Andrew's College, Shoji Tabuchi decided to leave for the U.S. "In the back of my mind, [I wanted] to see if I can get on the Grand Ole Opry or even just to see the Grand Ole Opry."

His mother was surprisingly supportive. She gave him some money to augment his savings. With $500 in his pockets and another $100 hidden in a shoe, Tabuchi and a banjo-playing friend left for San Francisco on a tourist visa.

"Since I came to the U.S. I quickly found out that [having a Japanese face] is more of an advantage than a disadvantage," says Tabuchi. "Say person A and person B play just as good. Who stands out, me or him?"

Maybe so, but the young Japanese musician found that his inability to speak English fluently made it hard to be taken seriously as a country musician, even in a San Francisco that had become the capitol of the hippy movement. And all the talk about free love and brotherhood didn't change the fact that with only a tourist visa he couldn't get a musician's union card and work regular gigs. But he found cafes where he could pass the hat and a restaurant where he was paid under the table. He also met and married his first wife, a young woman from Kansas.

After they married and had a son, Tabuchi was forced to get a day job as a radiology technician for two years. But he continued playing nights. And his return to being a full-time musician was inevitable, especially with his vastly improved English and U.S. citizenship. His virtuosity with a fiddle and the novelty factor made him a popular opening act, then a rising star on the country music circuit. By the early 1980s he was pulling down six-figure annual salaries.

In the early 1989, after a divorce and remarriage to a beautiful, well-heeled divorcee named Dorothy, Shoji Tabuchi was through making money for other people. He and two partners raised $3.5 million to buy a 20,000-square-foot building on a 21-acre lot in Branson, Missouri and converted it into a theater. With Dorothy acting as producer, the couple put together a glitzy country show built around Shoji. The show proved such a hit with the busloads of tourists flocking to Branson that after a single season, the Tabuchis were able to put up $1 million and get a bank loan to finance construction of the present 30,000-square-foot, 2,000-seat theater along Sheperd of the Hills Expressway. It was a bold, not to say reckless, move premised on continuing popularity thanks to what many saw as a country-music fad.

"I hate to discuss monetary things, but I will say it was kind of scary," Tabuchi recalls.

The gamble proved to be the best ever made in Branson. Not only did the town continue to pull in ever-growing numbers of visitors eager to see live country music, the Shoji Tabuchi Theater came to be its biggest attraction. Shoji's flair with the fiddle, credible vocals and Dorothy's genius for glitzy costumes, dance numbers and interior decor proved an irresistable combination. By its third season, the theater was putting on two shows a day, six days a week and grossing upwards of $14 million a year. The boy from Osaka had made himself America's king of live country music.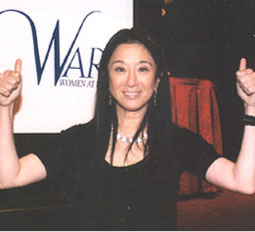 Vera Wang
FASHION DESIGNER

ich girls don't sew. Especially ones who attended pricey schools like Chapin, Sarah Larence and the Sorbonne. Certainly not ones who competed as an elite amateur figure skater, worked sixteen years as senior fashion director for Vogue, then two years as design director for Ralph Lauren. They are supposed to marry, have kids, spend their energies on the charity circuit.

Vera Wang might have ended up doing just that but for the dismaying fact that she simply couldn't find a wedding dress that embodied the kind of chic sophistication to which she was accustomed in her career and personal life. The idea of wearing an overblown pile of satin and tulle made her break out in hives. It precipitated a crisis of faith.

But Vera Wang emerged stronger, having resolved to save countless other rich girls from a similar crisis as they approached the altar. Wang designed an entire line of wedding dresses and launched Vera Wang Bridal in 1990. Bucking prevailing stereotypes about women of her background, she even did some of the initial cutting and sewing to get her designs just so.

But how often does a girl get married? Not wanting to become pigeonholed into a once or twice (or thrice) in a lifetime occasion, Wang began looking for ways to port her sensibility into other types of fashion. Drawing on figure-skating memories, she designed a stunning white dress with illusion sleeves for Nancy Kerrigan in 1994. That dress won Vera Wang instant fame and acclaim as a designer with a unique brand of wickedly chic elegance.

The fashion business is treacherous, murderously unprofitable and, even in the best of circumstances, capital hungry. Fortunately for Wang, her indulgent father is a pharmaceutical tycoon who had trouble saying no to her pleas for investment. Thanks in large part to his generosity, she was able to expand her lines into evening wear and ready-to-wear categories. Her gowns began draping the much-photographed frames of creatures like Sharon Stone, Uma Thurman, Meg Ryan and Tyra Banks. So admired has the Vera Wang brand become that its owner has licensed it for a fragrance, jewelry, eyewear, shoes, and a home collection.

No doubt the best part of her success for Vera Wang is the knowledge that her two daughters will be able to move confidently through life's transitions knowing that mummy has paved the way with an appropriate look for every turn.
---
Hubert Vo
TEXAS STATE LEGISLATOR

t's conventional wisdom that Vietnamese Americans vote republican. Going against the grain, Hubert Vo made his bid for the Texas State Legislature in 2004 as a Democrat by challenging a powerful Republican incumbent who had been weakened by a bizarre scandal. A few months before the election Talmadge Heflin had raised eyebrows by making an eccentric and unsuccessful bid to claim his former housekeeper's 20-month-old child.

Any politician who wins his seat by 16 votes has to wonder if he isn't challenging fate. That's the slender margin by which Hubert Vo was elected to represent Houston in the Texas assembly. But he first had to survive charges of voter fraud brought by Heflin, a 22-year incumbent who had been chairing the powerful House Appropriations Committee. In the wake of the election, Heflin argued that if illegal votes are weeded out, he would end up with a 5-vote vitory instead of a 33-vote loss. Vo countered that discounting improper votes would actually have increased his margin to 36.

State Representative Will Hartnett was appointed as special master to sift through voting irregularities. Texas Democrats rallied Asian Americans to pressure their elected representatives not to support Heflin's challenge. When the dust had settled, the only voting irregularities turned up were a couple dozen ballots cast twice by confused voters, only a handful of whom were Vietnamese. The special master made his finding of a 16-vote Vo win. By early February Heflin threw in the towel and Vo made a gracious speech calling Heflin a "good man".

Hubert Vo's skin-of-the-teeth entry into the Texas legislature was no more difficult than his long and arduous struggle to graduate from college. After arriving in the U.S. Vo worked a wide variety of jobs including waiter, busboy, cook, convenience store clerk, phone book updater, goldsmith and data technician. He supported himself through the University of Houston by working nights as a steel worker at the Hughes Tool company. Vo managed to work his way up the ranks at Hughes from a forge shop assistant to a master machinist while progressing toward his 1983 bachelor of science degree in mechanical engineering.

That degree gave him the credibility to start a business that sold computer systems and networking services to local government agencies. By 1995 Vo had saved enough to buy an apartment building. Since then he added several more apartments and developed an office/shopping mall in the Houston suburb of Alief. And now Hubert Vo has added the distinction of becoming the first Vietnamese American elected to the Texas Legislature. PAGE 3
"In the back of my mind, [I wanted] to see if I can get on the Grand Ole Opry or even just to see the Grand Ole Opry."
CONTACT US | ADVERTISING INFO

© 1996-2013 Asian Media Group Inc
No part of the contents of this site may be reproduced without prior written permission.