So poli sci it was. But Chu's educational path to nowhere didn't end there. He simply moved it to the graduate division. He earned a masters in an obscure interdisciplinary social science called urban educational policy planning.

"I was deciding what to do because of the Vietnam War," he recalls. "There were three choices. I was 1A and had a low draft number, so the choices were to join the Army, go to Canada or go to jail. One of the vice chancellors at UCLA I knew said, 'They're starting this new program. They have federal funding.' If I joined it I could get a stipend. They had a way to work things out so I could get a continuing deferment for a little period of time. I thought, 'No Army, get paid a little and get paid to be a student.' That sounded like a good thing."

Chu continued on to a PhD in the field. Even after the PhD, he hadn't settled on anything concrete. Instead he spent another year on a post-doctoral program that included some legal studies.

"The law stuff was kinda interesting, so I thought maybe I'll learn a little bit more," says Chu. "It was also in keeping with my continuing to be a student."

Instead of just going to law school, Chu remained true to form and kept his interest in the field academic and theoretical by enrolling in Yale's new masters of law program. He might have continued on to further studies in scholarly law but for a bit of timely prodding by his wife — she accused him of becoming a professional student.

"Perhaps if I had never met Helen I wouldn't have had her voice of conscience dissenting, 'Maybe you shouldn't spend your entire life being a student,'" acknowledges Chu.

Chu moved over to Boston for two years for an accelerated degree from Harvard Law School. That final degree was a catalyst that set in motion, with remarkable swiftness, the chain reaction that produced a lawyer who pioneered computer software litigation, won multi-million-dollar patent settlements, and, in 2002, the coup de grâce — a $500 million verdict in a biotech patent suit. It was the second biggest verdict in the entire U.S. that year.

Today Morgan Chu is America's most successful Asian big-firm lawyer. His success is entirely of the blue-chip variety. At 54 he's the superstar partner at one of California's most admired law firms, commanding seven-figure annual draws. But Chu's personal style remains that of the lifelong student with a curiosity about all things. He wears bowties, speaks with professorial attention to piquant details and notable sidelights and treats everyone like a favorite student.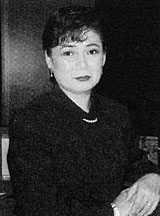 Saori Kawano
FOUNDER/CEO OF KORIN JAPANESE TRADING CO.

hose who see Asian immigrants as people who abandon their ancestral cultures to embrace Hollywood-style American materialism might be surprised by Saori Kawano.

"My original ambition was to teach traditional Japanese culture and arts, such as flower arrangement, tea ceremony and the like," she recalls. "Through these traditional Japanese arts I wanted to introduce the beauty and spirit of Japanese culture to Americans and the world. It was my dream from a very young age."

That missionary zeal to share her native culture is central to Kawano's earliest memories.

"I was an unusual child," she recalls. "I was fascinated by traditional Japanese things since I was very young. I have been collecting Japanese dishes since I was in elementary school. I studied tea ceremony, archery, calligraphy, was interested in kimono. I didn't always just think about getting married like the other girls in school; my dream was to go abroad and teach traditional Japanese things."

Kawano had been married only two months when she and her husband left Yokohama for New York City. Like Mormon missionaries, they traveled light. Saori brought only the clothes she was wearing, and to help her English studies, a dictionary and a tape recorder. They spent their days in school and nights working at a midtown Manhattan restaurant called Nakagawa. Saori waitressed while her husband washed dishes.

In the early 1980s Japanese restaurants were just starting to pop up in American cities. Kawano kept hearing the owner of Nakagawa lament that the few Japanese restaurants in the U.S. had difficulty finding suitable tableware and decor. With her innate interest in Japanese cultural objects, Kawano immediately saw the need for a business that could supply dishes, tea sets, knives and other items. She made a trip home and returned with 1,200 teacups. She lugged around samples to every one of New York's Japanese eateries. The owners snapped them up.

One of the trickiest feats Kawano had to manage was overcoming the stereotype that a young Japanese woman simply wasn't capable of heading up a business. Kawano convinced a Corean acquaintence, a businessman from the neighborning garment district, to act the part of her company's president. He occupied the desk shuffling papers while Kawano convinced prospective landlords that her newly formed Korin Japanese Trading Company was indeed a substantial enterprises.

With signed leases on a tiny midtown showroom and a downtown warehouse, Kawano began importing larger quantities of Japanese tableware. Her deep sense of Japanese culture and aesthetics were borne out by a steadily growing volume of orders. Within a decade Korin was supplying knives and tableware to top chefs like Nobu Matsuhisa and Wolfgang Puck, as well as to five-star hotels like the Mandarin Oriental and the Bellagio.

"Over the years I faced the usual obstacles in starting and running a business — money problems, lack of experience, problems arising from being a woman, and after my divorce, being a single parent," says Kawano. "I was discouraged sometimes by these things, but I had to keep my motivation high, remind myself to stay positive and keep on going. That was hard for me, but the thought of all the people who supported me would be enough to keep me going; I didn't want to let them down! Controlling my fear was the biggest obstacle. That was hard."

Call it fear or call it uncanny timing, but in 1995, just ahead of the economic downturn, Kawano cut costs by combining her Tribeca showroom with her downtown warehouse into a spacious on Warren Street near Nobu, her biggest customer. The big new showroom displays Korin's extensive lines of haute-Japanese tableware. Among them are two entire walls lined with countless hundreds of knives. Some are museum pieces, with handles of ebony or water buffalo horn or blades etched with kanji script. Some knives are the product of two weeks of work by four or five artisans. Another Korin specialty are stoneware sake sets. A recent addition is a snow-white "matte and shiny" bone china set designed by Nobu Matsuhisa. The showroom is a memorial to a quarter century of entrepreneurial struggle guided by an abiding love of beautiful Japanese objects.

"I started with very simple idea and just built the business naturally," says Kawano, who says she still have difficulty seeing herself as a successful entrepreneur. "It was an ongoing process. I did not make strict business plan for myself. I just wanted to introduce beautiful products to the American people. The markets have changed since I started, but the original idea to bring beautiful products from Japan has not changed over the 23 years I have been doing this."
---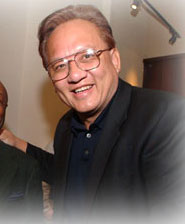 Noel Lee
FOUNDER/CEO OF MONSTER CABLE

hat does it take to have a legendary ballpark named after your company? About $6 million and serious attitude. Noel Lee has always had the attitude, though the money is something that only came about recently. Back in 1972 he decided he was too cool for his job as an engineer at Lawrence Livermore Lab where he was playing a key role in the setting up of the then top-secret laser-fusion experiments. Instead Lee began touring with his all-Asian country-rock band called Asian Wood.

"I played drums at that time," Lee recalls. "The band I was playing with had an offer to go on a world tour so I took a chance and packed up the wife and kid and leased out the house and went to follow my music passion." That began a two-year stint playing at hotels and clubs in Hawaii. When he returned to the Bay Area, Lee discovered that he was still too cool for the engineering job he found at Lawrence Berkeley Lab.

"They were terrible projects," he recalls. Naturally, he got bored. Within two unhappy years he quit and once again turned to music. This time he focused on his love for music on the appreciation end.

"I loved playing music but I also loved listening to music. So music reproduction was a big deal for me." In his quest to improve the quality of the sound coming out of his speakers, Lee discovered that the conductivity of speaker cables was crucial. He tried getting a job in the audio business to explore his ideas, but lacked the kind of experience needed to get hired. So he created speaker cables of quality copper with gold-plated connections and decided to make a business of it.

The problem was, speaker wires were perceived as something that were thrown in for free. To overcome that hurdle, Lee began giving demonstrations to every stereo store that would let him in the door. Slowly but surely audiophiles began coming around to the view that expensive speakers were wasted on cheap cables. Thus was born Monster Cable.

A quarter century later, it is the Bay Area's biggest private Asian-owned employer with 750 employees at its Brisbane facility. Its name is on what was once Candlestick Park, then 3Com Park until the tech giant hit hard times in 2002 and had to give up the naming rights. In an age when hi-tech is king, especially among ambitious Asian Americans, Noel Lee has shown that lo-tech executed with passion and flair could trump a local multi-billion-dollar hi-tech icon.

What's Noel Lee doing with the resulting Monster publicity? Launching a whole slew of Monster-attitude products and services, including Monster Power, Monster THX, Monster Car Audio, Monster Photo, Monster Game, Monster Mobile and Monster Computer.
"I didn't always just think about getting married like the other girls in school; my dream was to go abroad and teach traditional Japanese things."
CONTACT US | ADVERTISING INFO

© 1996-2013 Asian Media Group Inc
No part of the contents of this site may be reproduced without prior written permission.