THE JUDGE &
THE CONVICT'S WOMAN
Having his woman fall into the arms of the judge who could put him away for life without parole was Ming Jin's worst nightmare. Or was it the slickest con of his career?
by H Y Nahm
Page 1 of 13

t was straight out of some B movie.
He stroked her neck and necklace. His hand moved down to her breast as he closed in for a kiss.

"If you want Jin to get out of jail early, you will have to pay the price."

"I started to love you the day you pleaded 'no contest'," the 60-year-old judge told the 37-year-old Taiwanese immigrant who had been a defendant in his courtoom eight months earlier.
On January 18, 1996 Pifen Lo had pled no contest to charges of child endangerment and money-laundering. At the April 26, 1996 sentencing the judge had let her off with no jail time and five years of probation with credit for the year she had already spent in the county jail awaiting trial.
That circumstance alone is enough to raise eyebrows. What made the judge's conduct unacceptable ethically and legally was the fact that Ming Ching Jin, the man with whom Lo had been living for 20 years, remained locked up in the Los Angeles County jail awaiting sentencing by none other than Judge Trammell himself. And Trammell had made it impossible for Lo to mistake his intentions.
"If you want Jin to get out of jail early, you will have to pay the price," he said as he began touching Lo, according to findings of fact later filed by another judge. That unsubtle message came at the end of the judge's discourse on the upcoming sentencing hearing for Jin, the father of Lo's three children. Lo was in the judge's chambers because he had ordered her to come.
This wasn't Trammell's first effort at ensnaring her in his amorous net, Lo realized on reflection. On April 29, 1996, three days after she had been sentenced to probation by Trammell, she had stopped by Trammell's courtroom to pick up a probation application from the clerk and been called into chambers, the judge's private office, by the judge. The mere act of speaking with a defendant outside the presence of her attorney and the prosecutor is considered an "improper ex parte communication", as noted later by the judge appointed to look into the effect these irregularities may have had on the fairness of the trial Jin had received.
"You looked much better than when you were in jail," the judge told Lo. "Call me any time you have a problem," he added, winking and touching her left shoulder, "and don't wait until a small problem becomes a big problem I can't fix."
More blatant overtures were precluded on that occasion by the presence of Ming Jin's younger brother Steve, who had driven Lo to the courthouse. Lo made no response, choosing instead to treat the judge's remarks as a pleasantry.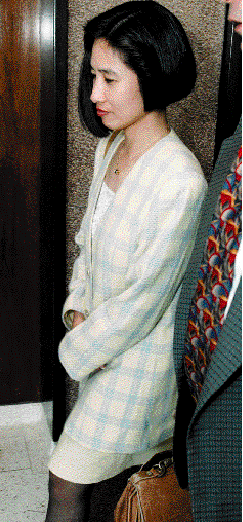 Pifen Lo, 37, engaged in a three-month sexual liaison with Judge George Trammell, III, 60, of the Pomona branch of the Los Angeles County Superior Court, five months after he let her off with parole. Meanwhile, Trammell was to decide the fate of Ming Jin, the father of Lo's three children, who faced a mandatory life sentence without possibility of parole.

The next day she was given a forceful reminder of the power Judge Trammell held over her family's welfare when he slapped down a motion critically important to ensuring Jin a fair trial. The judge's outright refusal even to consider Jin's motion to suppress evidence seems to have been the first of several moves Trammell may have made to advance his designs on Jin's woman. Page 2

| Page 1 | 2 | 3 | 4 | 5 | 6 | 7 | 8 | 9 | 10 | 11 | 12 | 13 |

CONTACT US | ADVERTISING INFO

© 1996-2013 Asian Media Group Inc
No part of the contents of this site may be reproduced without prior written permission.